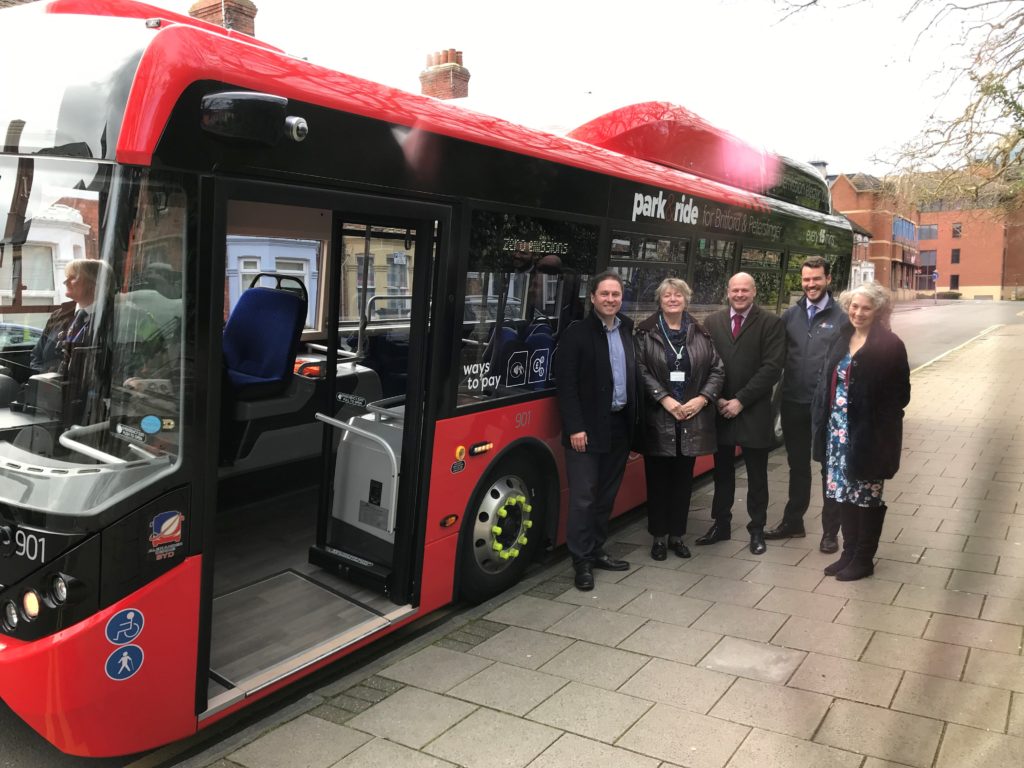 Swindon Borough Council is charging ahead with a bid to the Government to improve the Borough's air quality.
The Council has teamed up with Swindon's two main bus service providers – Swindon's Bus Company, owned by Go South Coast, and Stagecoach West – as it aims to become the country's first Electric Bus Town.
Transport Secretary Grant Shapps announced last month that the Government was making £50m available to one local authority to set the 'gold-standard' in environmentally friendly public transport.
The winning area will receive the funding to help pay for a brand-new fleet of electric buses, reducing emissions and cleaning up the air in their community. A town with 200 electric buses could save around 7,400 tonnes of CO2 each year, the equivalent to taking 3,700 diesel cars off the road.
Swindon's Bus Company's sister operator Salisbury Reds already has experience of electric bus operation, with three new vehicles which work on two of the park and ride services in the nearby city.
The bus company last week showed off one of its electric buses to Swindon Borough Council Cabinet Members, Councillors Maureen Penny, Cathy Martyn and Keith Williams.
Each electric bus can travel approximately 160 miles on one full charge and it takes four hours to charge the batteries. One electric bus will save 15.5 tonnes of Nitrogen Oxide and 32.2 tonnes of CO2 per year.
The Electric Bus Town proposal is a pilot scheme, which aims to analyse the benefits of moving all buses to electric power, including how it will improve air quality and greenhouse gases in a place.
It aims to understand the challenges of running an all-electric fleet, how it affects running costs, while also supporting bus manufacturers in the development of zero-emission bus technology.
It is hoped that introducing an electric bus fleet will encourage more people to use buses rather than cars.
The Council and bus operators will first submit an expression of interest to the Government by the end of April and, if successful, shortlisted bids will be announced at the end of May.
Business cases will then be submitted between the summer and autumn.
Councillor Maureen Penny, Swindon Borough Council's Cabinet Member for Transport and the Environment, said: "I am determined with the help of my Cabinet colleagues that we do all we can to improve air quality in Swindon. It is one of the reasons why we have set up a Climate Change Working Group.
"So when the Government presented the Electric Bus Town scheme, it ticked a lot of boxes. I was extremely impressed to see one of Salisbury Reds' electric buses in action and to find out about all their environmental benefits.
"We will be putting everything we can into this bid with the help of Swindon's Bus Company and Stagecoach West to give us the best chance of obtaining the £50m in funding."
Andrew Wickham, managing director of Swindon's Bus Company, added: "We are working closely with Swindon Borough Council to gain government support for this very important Electric Bus Town initiative.
"We have received an excellent response from those travelling on our electric buses in Salisbury, with our customers appreciating our efforts to help lower emissions across the region. Buses – especially electric buses – are the perfect solution for this, and they have the potential to significantly improve air quality in our towns and cities. I'm looking forward to working with the Council to help make the Electric Bus Town proposal a reality here in Swindon."
Rupert Cox, Managing Director of Stagecoach West, said: "Buses are key to helping to improve our local environment and reduce the effects of congestion. An investment in electric buses could transform bus services in Swindon by enabling zero pollution at the point of use.
"This could further encourage people to leave their car at home so that they could travel in a far more environmentally friendly way."