On this page, find the latest information about our Coronation Event on Saturday, April 29th.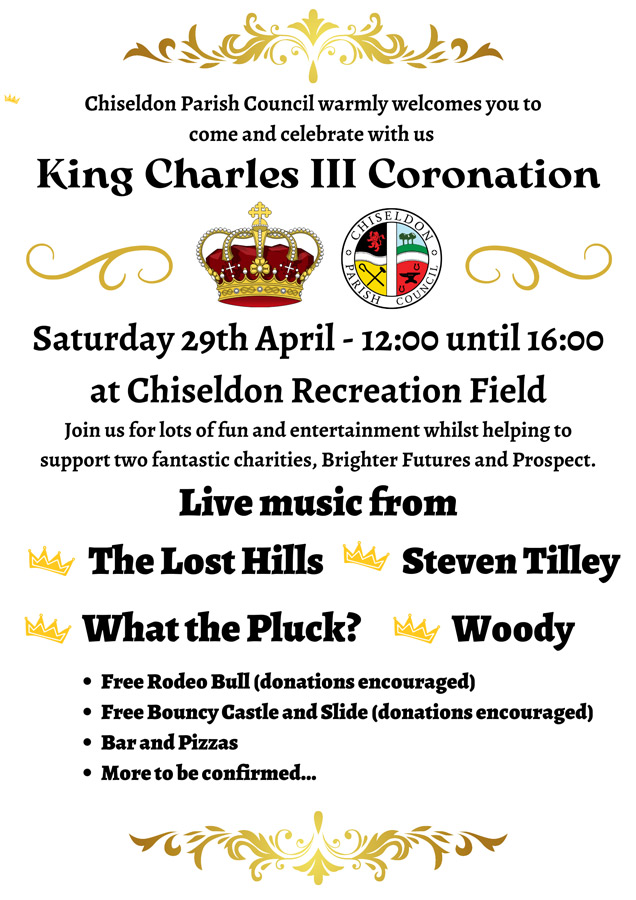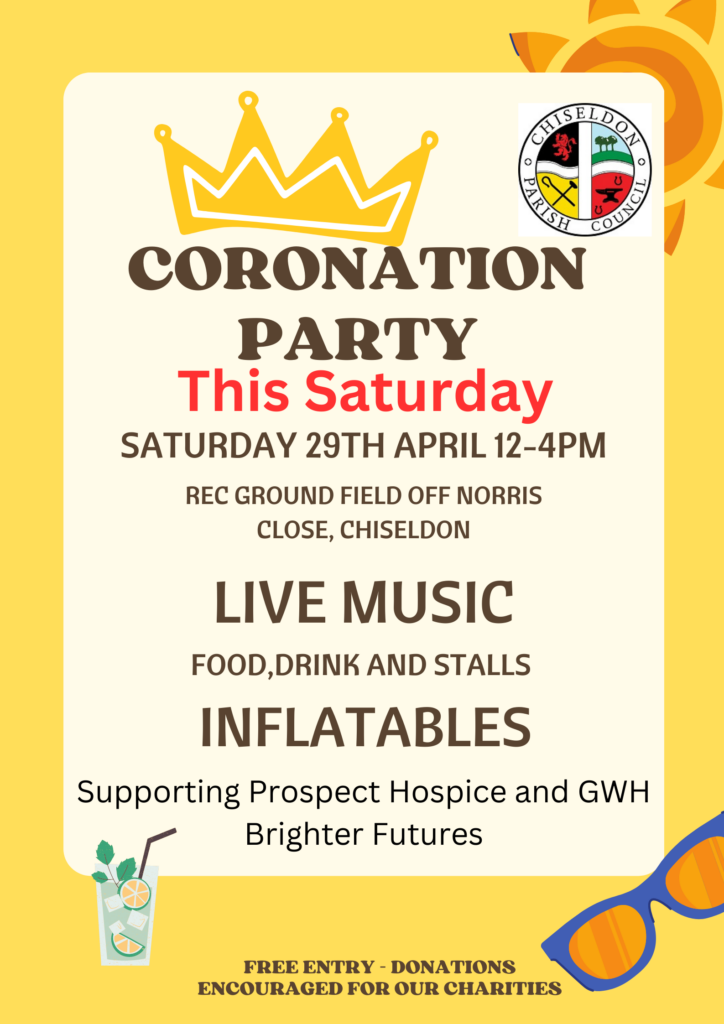 Coronation Event Update
04/05/2023
Myself (Clair Wilkinson) and Nina at the Parish Council would like to thank all the contributors to the Coronation event on Saturday. We hope we have a complete list below but let me know if I have missed anyone.
Clair would like to thank Nina Hempstock!
Nina Hempstock would like to thank Clair Wilkinson !
Erron, Ethan, Matthew, Lauren, Will and Evie who worked hard before and after the event on set up and take down. Your parents can tag you if they see this.
Graham Poynter our fantastic handyman who led the group of workers.
Amanda Trotman for organising the postbox toppers around the village.
Chiseldon Primary School for the loan of the stage.
The Lost Hills, What the Pluck, Dave "Woody" Woodford and Steven Tulley for providing music and The Lost Hills for their excellent work in providing everyone with the relevant kit:
All our stall holders who had a great selection of gifts to sell and set up and packed away efficiently.
Prospect Hospice and Great Western Hospital Brighter Futures for their stalls on site.
Our magicians and balloon modelling duo Helmut and Doris for giving up their time to entertain.
Sky's the Limit for the inflatables.
Truston Security and MecicPaul for their services.
All our food and drink vendors – Butterfly Occasions, Chez's Ices, GlamoRose Cake Van and Mickies Munchies.
2 Parish Cllrs who helped on the raffle ticket stall.
The Parish Council for approving the funds needed to set up the event.
Everyone who contributed to raffle prizes – Morrisons, Three Trees Farm Shop, Cameo Hair Salon Chiseldon, various local individuals and Cllrs, Melanie-Joy McFadden, Crystals and more, Sandstorm Studios in Badbury, The Chiseldon House Hotel, The Plough on the Hill pub, Empire Cinemas, Cotswold wildlife park, Mind and Body Fix, Gracey grazing boards.
AND ALL OF YOU WHO CAME ALONG TO MAKE THE EVENT A SUCCESS!
Apologies if I've forgotten anyone!
We will do a count of the money raised this week and let everyone know.
Pictures from Coronation Event, 29th April 2023
04/05/2023
Raffle Event Donations
04/05/2023
Many thanks for all the generous donations to the raffle event! Click to see larger images.
Coronation Weekend - Washpool volunteers in action
17/04/2023
Two bands appearing at the Coronation event
10/04/2023
The Lost Hills
Please see Facebook page for details.
What the Pluck?