The committee looks at proposed changes to buildings or use of land within the Parish. We are a statutory consultee and review planning applications in the context of the local environment. We then make representations to Swindon Borough Council. Through the SBC you can view the status of any current planning applications.
With regard to highways matters – including traffic safety and management issues, repairs and cleanliness – although the Parish Council has no direct authority to implement work, it can recommend actions to Swindon Borough Council.
The Planning, Highways and Transport Committee of the council has been drawing up maps showing traffic issue hotspots within the parish. Whilst it is not within the power of the Parish Council to resolve all these issues, the committee hope to be able to use these maps to identify projects they can work on, to aim to resolve issues where possible.
The maps as of March 2022 are below.
Hodson area: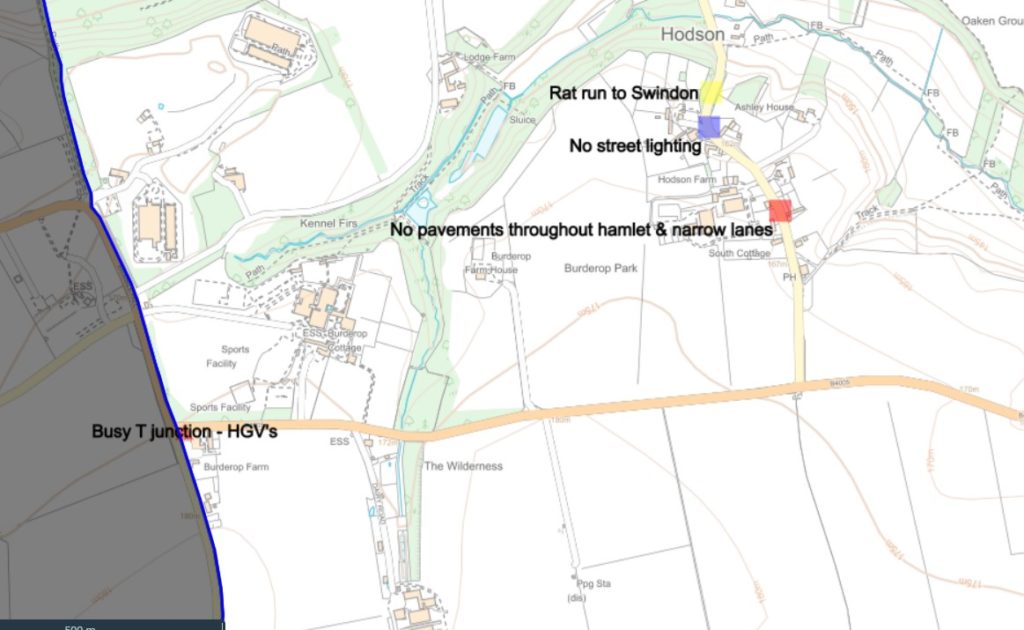 Note – permission has been requested from SBC to install a speed activated camera in Hodson, approaching from the northern Broome Manor direction.
Chiseldon & Badbury area: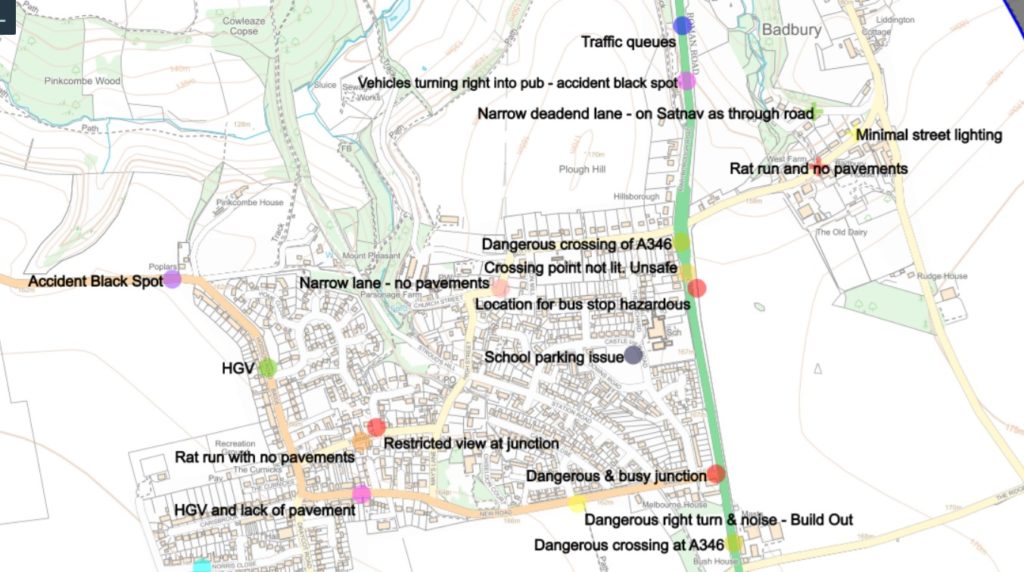 Note- 2 speed activated cameras have been installed at either end of Badbury.
South Chiseldon and Ridgeway View: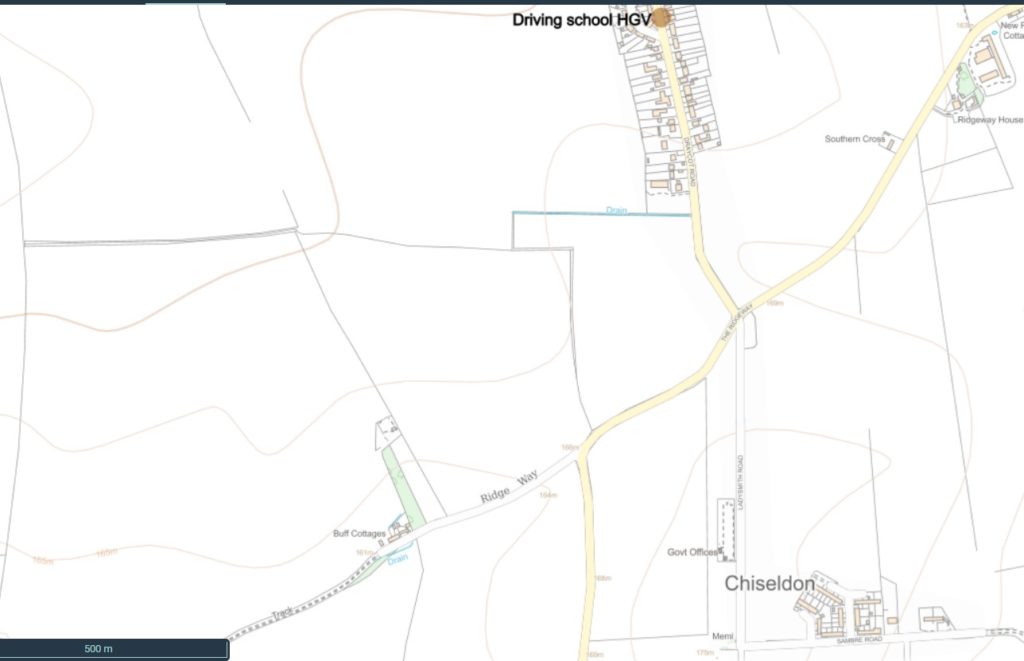 Ridgeway View and Draycot Foliat: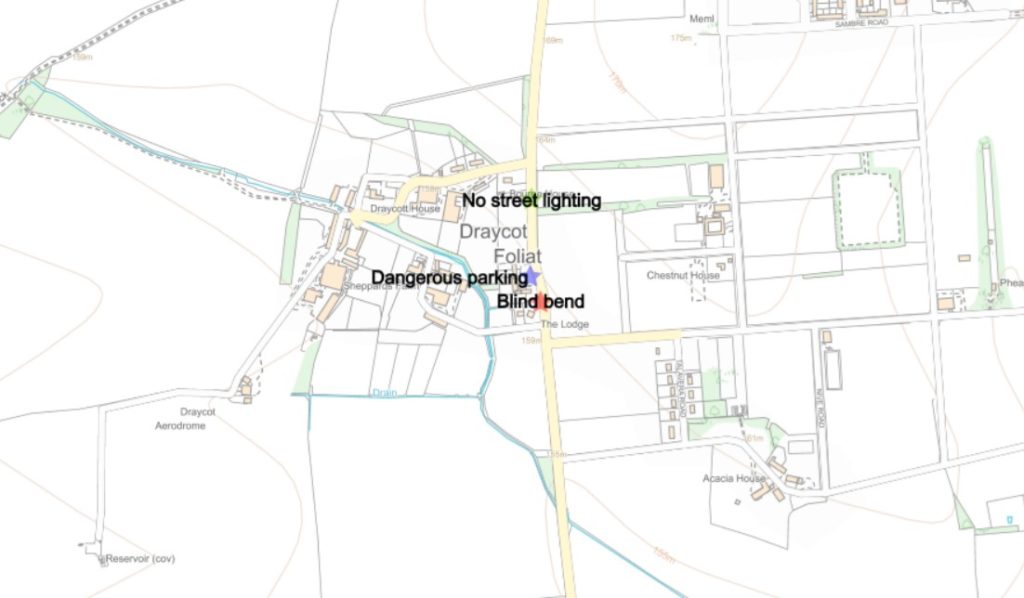 Note – Solar light installed at parking area.
Note – Project has started to improve parking area to help reduce traffic issues in this location.
Note – Permission has been applied for, to SBC to install a speed activated camera before the blind bend to slow down traffic.
Traffic Reports
The links below show traffic data gathered in the designated areas:
SID report: Badbury, Liddington end
20mph Speed Limit Change Proposal – August 2023
20mph proposal to SBC – Aug 2023 (pdf)
How the committee works
The committee meets as needs dictate. In order for action to be approved by the committee it needs to have been proposed by one member and seconded by at least one other committee member.
The committee looks through all the issues and provides a plan of action for dealing with them. It also reviews what progress has been made on the issues raised in previous meetings. All of this process is documented and made public in the committee minutes.
Attend the committee
We encourage members of the community to attend meetings. Within the meeting, there will be the opportunity to asks questions or make comments and suggestions. Meeting times are posted on the News and Events page of the website.
Our minutes and agendas
You can view our minutes and agendas as webpages, a pdf documents or a word documents. Please visit the committee minutes and agenda webpage.