No sooner had last month's newsletter been finalised, we were in to a second lockdown. We're pleased to say though, that all five core libraries are reopening again today.
If you're preferring to stay at home at the moment, we have a fantastic choice of digital reads available to download from the comfort of your home.
We also have some lovely events lined up for December, including Festive Readings, Story Sessions and online crafting!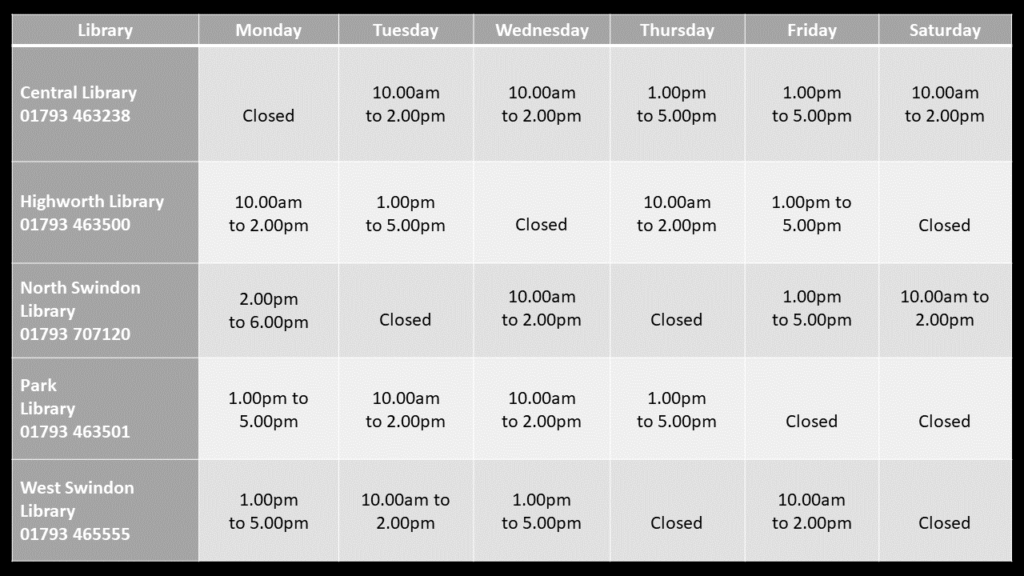 The following services will resume again today (2 December):
Click, Call and Collect: Let our staff choose a selection of books on your behalf.
Quick Choice: Browse a small selection of books at your chosen library.

Booking is required at Highworth and North Swindon Libraries.
Booking is no longer required at Central, Park or West Swindon Libraries.

Public Use Computers: Book a session to use one of our public computers.

Printing is currently unavailable.

Reservations: Using our online catalogue, reserve your books at home for free and collect them once they are available.
Returns: Return any outstanding books.
Discover more about our services, including how to pre-book
If you are planning on visiting a library, please ensure you arrive wearing a face covering as you will be required to wear this for the duration of your visit.
Please use the hand sanitiser provided and follow social distancing guidance at all times.
Please do not visit the library if you have any symptoms of COVID-19.
Swindon Libraries During the Pandemic
Since the pandemic hit, we have been working hard to ensure we had a service to offer our customers. Whilst it might not be what we're used to, we have been encouraged at how you have adapted with us.
We have been really interested in seeing how our service has fared over the past 8 months and thought you might be too: