Points of interest from the meetings held in April 2021.
Grant funds for WARP for washpool improvements
We are so pleased that the WARP Volunteer Group (Washpool Area Restoration Project) managed to secure a grant from the Wiltshire Community Fund to improve and replace sections of the boardwalk, improve signage to the site, update their leaflet and divert some stream water to the lower pond which will hopefully make it keep water for longer and create a pond dipping site for children. Funds will also go towards repairing the vehicle track they use to access the site.

New Cllrs Sanjay Dogra and Raj (Sunny) Patel
On Monday 12th April the Council co-opted the 2 final members it needed to have a full complement of 15 Councillors. A first since May 2019.
Sanjay Dogra
Sanjay is part owner of the Patriot's Arms along with Sunny. He has spent a lot of time over the last year helping those in the community who required food, assisting with shopping and providing free facemasks.
He has been at the pub for the past 2 year and has lived in Swindon for 15 years with his wife and 2 daughters.
Raj (Sunny) Patel
Raj, known as Sunny to everyone locally, owns and runs the Patriot's Arms with Sanjay. As well as the activities above, the pub has also been holding fund raising events over the past year. Their breakfast club has raised over £600.
Sunny has been at the pub for the past 1.5 years and has lived in Swindon for 21 years with his wife and son.
Annual Parish meeting 12th April
Our annual Parish meeting was held on-line on Monday 12th April. As well as reports from the committees and the Chairman of the Council, we had update reports from some of the groups that the Parish Council work with, such as the Tennis Club, History group and Countryside and Gardening club. We also had a Covid19 update from the Public Health team at SBC.
You can read all our information on our website, or by asking the Clerk for an emailed copy.
Annual meeting of the Parish Council – dates and details to be confirmed.
Due to the law allowing remote meetings ending on May 6th, yet halls not being opened until 17th May earliest, we have yet to set dates for our annual meeting. This will be publicised on our website and on social media as soon as we can.
BMX Working Party – YOUR TRACK NEEDS YOU!
The residents' group have begun work on preliminary costings for the track, in order to understand how much fund raising is required. There is still a lot of work to do with regards to engaging with stakeholders, securing leases and permissions, not to mention covering legal aspects further down the line.
If anyone has any fundraising/legal/planning/logistics/project management skills they can lend the group then please contact the Parish Clerk in the first instance who will pass the message on.
This is not a Parish Council group, we are assisting them with raising awareness via this article.
BT Badbury defib
We are delighted to advise that the defibrillator has been installed in the BT Box in Badbury. Covid19 slowed us down on this project but Darren at CTS Electrical Services worked hard for us, first liaising with SSE on the electrics for the box and then installing the device labour free also managing to source most of the parts for free from Edmundson Electrical Wholesalers in Swindon as well. Our thanks also to the original anonymous donation that made this purchase possible.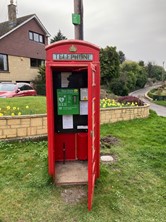 DayHouse Lane closure from Swindon Borough Council
Day House Lane under bridge closure 6 April to end of October 2021 – no access for pedestrians, cyclists or equestrians
Highways England operates, maintains and improves England's motorways and major A roads.
We're currently upgrading M4 junction 15 and the junction to the A419, as part of these works it will be necessary to close Day House Lane beneath the bridge which carries the A419 above.
Thank you for your patience whilst these works are carried out.
We'll make every effort to ensure the impact on the local community is kept to a minimum. We always aim to work to the programme, however unforseen circumstances or adverse weather conditions may mean changes to it. Please monitor www.trafficengland.com to keep updated.
New Committee Formed.
The Parish Council has formed the "Recreation Ground Improvement" Committee to oversee plans to update the Recreation Hall and grounds. The minutes and agenda's for these meetings will be published in all the usual places and residents are welcome to attend. The next meeting is Thursday 6th May 7.00pm via MS Teams.
Outside Gym on Rec field now open
The outside gym on the Rec field is now open for all users. Please remember "hands/face/space" when using this equipment and also sanitize your hands before and after if you can.
Fibre Broadband Update. UPDATE from Neil expected
You can visit http://www.openreach.com/connectmycommunity to find out more or read the threads on the Chiseldon Community Facebook page.
The Chiseldon Parish website also has a Q&A section which you can read, as well as being posted on the Chiseldon Community Facebook page. Please contact the Clerk for a copy of the document via email if you can't access our website or don't use social media. There will also be a resident's leaflet from "Chiseldon Parish Residents for Better Broadband" appearing through doors shortly with a further update.
https://www.chiseldon-pc.gov.uk/news-and-events/current-issues/openreach-fibre-qas/
Defibrillators – a reminder
A reminder that the Parish has 4 defibrillators – one outside Cameo Hairdressers on High Street, one outside the Pavilion on the Recreation Field, one outside the Calley Memorial Hall on Draycott Road and one in the BT Box in Badbury. All units are accessed by calling 999 to gain the code for the box. You cannot use these defibrillators on someone who doesn't need it as the machine will not work. It also provides audible instructions on how to use them.
There is also a defibrillator on the outside wall of the school in Ogbourne St George.
NOW OPEN FOR NEW SUBMISSIONS – Parish Council Grants and Donations fund & Calley Memorial Hall fund
The Parish Council have an annual fund that we can donate to worthy causes within the Parish. If you are a group, charity or society that believe you could benefit from this fund then please contact the Parish Clerk for further details.
The trustees of the Calley Memorial Hall fund are also able to approve grants and donations to worthy causes within the Parish. (This doesn't have to be connected to users of the Memorial Hall). Please contact the Parish Clerk in the first instance who can provide you with an application form.
(It should be noted that this fund is not connected to the Parish Council)
All Parish council meetings are currently on MS Teams. Please contact the Clerk for login details.
The next Full Council meeting of the Parish Council will be confirmed as soon as possible. This will start at 7.30pm and will be held remotely or in the Recreation Hall off Norris Close. Residents are welcome to login and there is a public recess at the start of proceedings, after which residents can choose to leave the session.