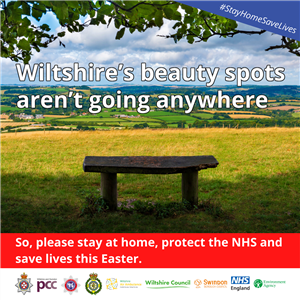 "Wiltshire's beauty spots aren't going anywhere"
That's the message from the Wiltshire and Swindon Local Resilience Forum (LRF), as people are urged to stay at home and avoid unnecessary travel over the Easter bank holiday weekend.
With sunny weather forecast and people heading into the third weekend of the Government's restrictions, the advice to the public is clear.
Everyone must do their bit to help protect the NHS and save lives.
Chair of Wiltshire and Swindon LRF Chief Constable Kier Pritchard said the vast majority of people across the county were adhering to the Government's advice, but an extra effort was needed to keep people safe over Easter.
He said: "I know the past few weeks have been incredibly challenging for people, as the financial, economic and social implications of these necessary restrictions hit home.
"But it is important to reiterate how vital it is that we continue to follow the Government's guidelines and stay at home.
"I know that after weeks of social isolation people may start to feel fatigued, and the temptation may be there this weekend to pop out for a picnic, or arrange to meet a friend for a long walk.
"However, the best way that you can support our NHS and help keep both yourself and everyone else safe, is to stay home and avoid all unnecessary travel."
He added: "I know many people's normal Easter plans would include getting out into the countryside and visiting some of Wiltshire's beautiful landmarks and beauty spots.
"But, remember, we will have ample opportunity to do that when all this is over – for now, we need to stay at home, protect the NHS and save lives."
The current Government guidance is:
· Stay local – use open spaces near to your home where possible – do not travel unnecessarily
· Only go outside alone or with members of your own household
· Keep at least 2 metres apart from anyone outside your household at all times
· Take hygiene precautions when you are outside, and wash your hands as soon as you are back indoors.
All the agencies which form part of the LRF have issued advice and encouragement to people on how to stay safe this Easter.
Leader of Wiltshire Council Councillor Philip Whitehead said: "The great majority of people in Wiltshire have followed the Government guidelines to stay at home, and we thank them for that.
"I know that Easter is traditionally a time when families and friends get together, but please don't be tempted to break the Government guidance over this holiday period.
"Our play areas and outdoor gyms are closed until further notice, but open spaces, such as country parks, remain open. Please only use these areas once a day for exercise, and only if they're within walking distance from your house and please ensure you are at least two metres apart from anyone outside of your household.
"For anyone who is self-isolating and needs support during this time, you can contact Wiltshire Council's Wiltshire Wellbeing Hub on 0300 003 4576, or look on our website for information on the support available from the council and local volunteer groups.
"Our NHS and key workers are doing an amazing job in the most challenging of circumstances, but we all need to do our bit to collectively beat COVID-19. For them and for all of us, please stay at home, protect the NHS and save lives."
Leader of Swindon Borough Council Councillor David Renard said: "I understand how difficult these containment measures have been for a lot of people and I would like to thank everybody who has so far managed to follow the Government advice to the letter.
"I would strongly urge people to continue to follow the official guidelines around social distancing this bank holiday weekend. Those who wish to exercise will be pleased to know that Swindon's parks will remain open, though residents will be unable to drive to them."
Debbie Stark, deputy director of Healthcare NHS and deputy centre director for Public Health England, said: "This bank holiday weekend, it's important that we all continue to follow Government guidelines and stay at home to prevent the spread of coronavirus.
"We want to reinforce that you should only be leaving the house to shop for basic necessities and medicine, one form of exercise in your local area, such as a run or walk, and medical needs or to help a vulnerable person.
"We know that this is going to be particularly challenging this weekend but doing so will help to protect the NHS and save lives across the South West."
Cara Barks Charles, chief executive of Salisbury NHS Foundation Trust, said: "Staff at Salisbury Hospital will be working all bank holiday weekend to treat patients and maintain services. Please help us to help you by staying home and keeping your distance."
Tracey Cox, chief executive of Bath and North East Somerset, Swindon and Wiltshire Clinical Commissioning Group, said: "I'm fortunate enough that I get to hear first-hand the heart-warming and faith-restoring stories of local health and care staff going above and beyond for their communities.
"It's this quiet, everyday heroism that moves us all to clap and cheer outside our homes every Thursday evening.
"While our applauding is a grand gesture of public support, we can also, perhaps more importantly, show individual support for our hardworking colleagues by staying at home this Easter weekend and doing our bit to save lives."
Area manager Ian Jeary, from Dorset & Wiltshire Fire and Rescue Service said: "With the current nice weather, we know lots of people will be getting out in the garden and will be tempted to have a bonfire. However, the smoke can cause distress to neighbours, especially when they can't see the cause, and it's all too easy for such fires to get out of control.
"As such, we are asking people to only have fires sited well away from buildings, fences, trees and garden structures, to stay in attendance at all times with a garden hose to hand in case the fire starts to accelerate, and to be considerate to those nearby.
"However, our preference would be to not have bonfires at all – although we are still providing an emergency response to all incidents, attending out of control bonfires does pull us away from other vital work to support our communities and means our firefighters are potentially exposing themselves to coronavirus."