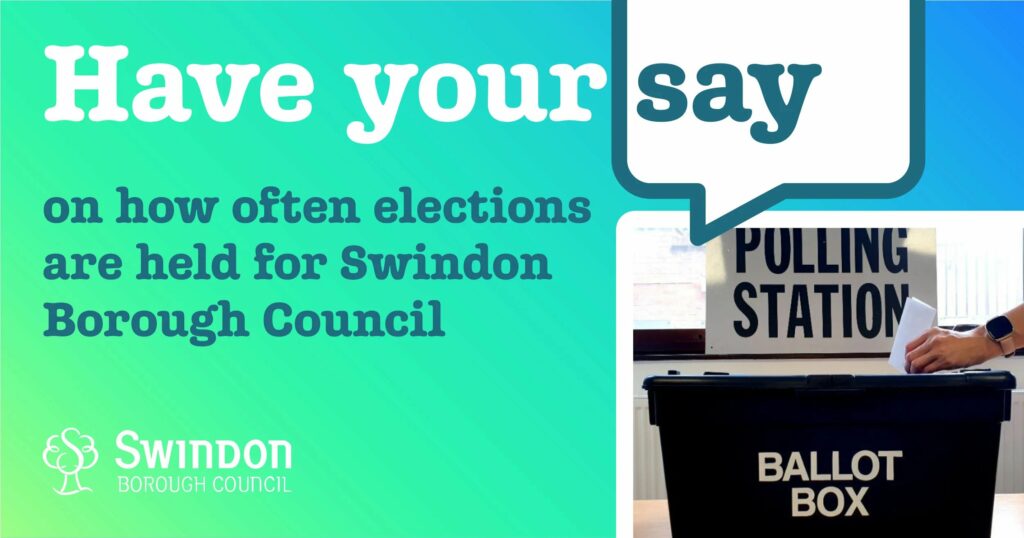 From today (14 August) to 25 September, Swindon Borough Council is running a public consultation inviting views on how often it holds elections.
We'd really appreciate your help to:
Complete the online consultation form on behalf of your organisation
Spread the word about the consultation with residents in your network who may be interested in taking part
Below, you will find further information about the consultation and a link that you can share.
What potential change to the election cycle is being considered?
Currently, Swindon Borough Council's election cycle is known as 'by thirds', which is when councillors are elected for a term of four years, with one third being elected for three consecutive years, followed by a fourth year when there are no elections.
We'd like to hear from organisations and residents on whether the Council should retain this election cycle, or move to an alternative model, known as 'whole council elections'. This would mean that all seats on the Council would be elected at the same time, once every four years. The biggest difference with 'whole council elections' is that there would be no borough elections between the four yearly elections, apart from by-elections.
Read more about the merits of both election cycles on our website.
Why is the consultation happening now?
This consultation links to a review of electoral boundaries taking place in Swindon in 2023/24, led by the independent Local Government Boundary Commission for England. Find out more on our website.
How can people take part in the consultation?
It takes just a few minutes to complete the online survey which can be found on our website, alongside further information about the consultation.
Paper versions will be available in the following libraries until 25 September:
Central Library
Highworth Library
West Swindon Library
North Swindon Library
Park Library