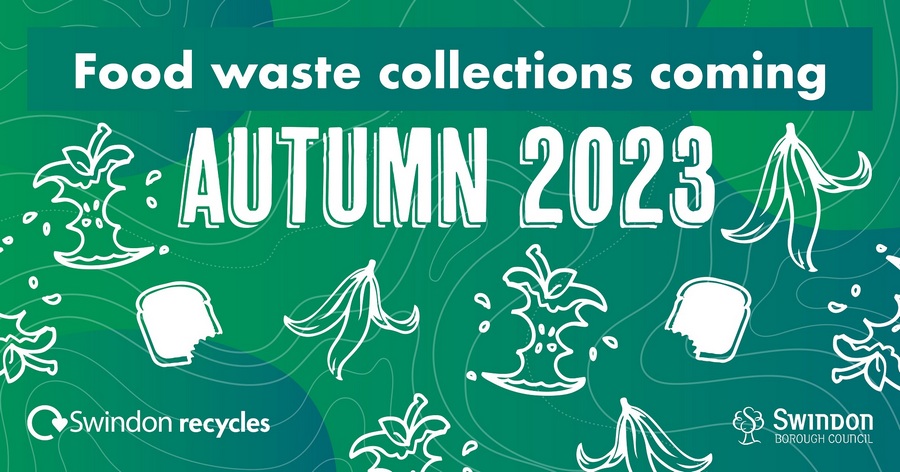 Information on this page is taken from Swindon Borough Council's article – please see full article for more details.
The countdown to the biggest change in waste and recycling services in Swindon for 15 years will begin in earnest over the next few months when new recycling containers start being delivered to residents.
Homes across Swindon will soon receive weekly food waste recycling collections, as part of improvements to the Council's waste and recycling services, which will also include changes to the way recycling is collected.
Why is waste collection and recycling changing?
The changes, which will be implemented this coming autumn, are designed to increase Swindon's recycling rate and help keep the town's carbon footprint as low as possible, while providing a cost-effective service. Swindon uses a kerbside sort method of collection which helps us recycle more, closer to home. This method has also been shown to produce better sorted recycling with less 'contamination' by other materials.
In Swindon, a detailed analysis of the levels of residual waste being generated across the Borough was completed last October. This work showed that food waste made up the majority of residual waste, forming 38.9 per cent of the total – of this food waste, 73 per cent was avoidable while 43 per cent of all discarded food was still packaged.
What is changing and what will stay the same?
To implement weekly food waste collections, changes also need to be made to the way residents put their other waste and recycling out. From autumn 2023, collections will be made as follows:
General waste in wheelie bin or blue bags
Paper and card recycling in one of the existing black/orange recycling boxes
Glass recycling in one of the existing black/orange recycling boxes
Plastic and metal recycling in new weighted bag (which will be delivered over the summer)
Food waste in large outdoor food waste bin (which will be delivered over the summer to residents who aren't currently on the food waste trial)
The Council's garden waste collection service will continue in the same way.
General waste and household recycling will continue to be collected fortnightly, while food waste collections will be made every week.
Over the next few months, households will receive a new weighted bag for plastic and metal recycling, as well as a five-litre food waste caddy for indoor use and a larger 23 litre caddy for outdoor use. Residents who are on the food waste collections trial should continue to use the existing containers they already have.
It is anticipated that, although the frequency of collections will not change, many households will have a change of collection day. However, no changes are being made yet – all affected households will be written to later in the year, ahead of the rollout, to explain the changes in more detail.
More information
More information about the new service will be available in a leaflet which will be included with the new containers when they are delivered to households.
You may also find the Council's dedicated FAQ page useful.