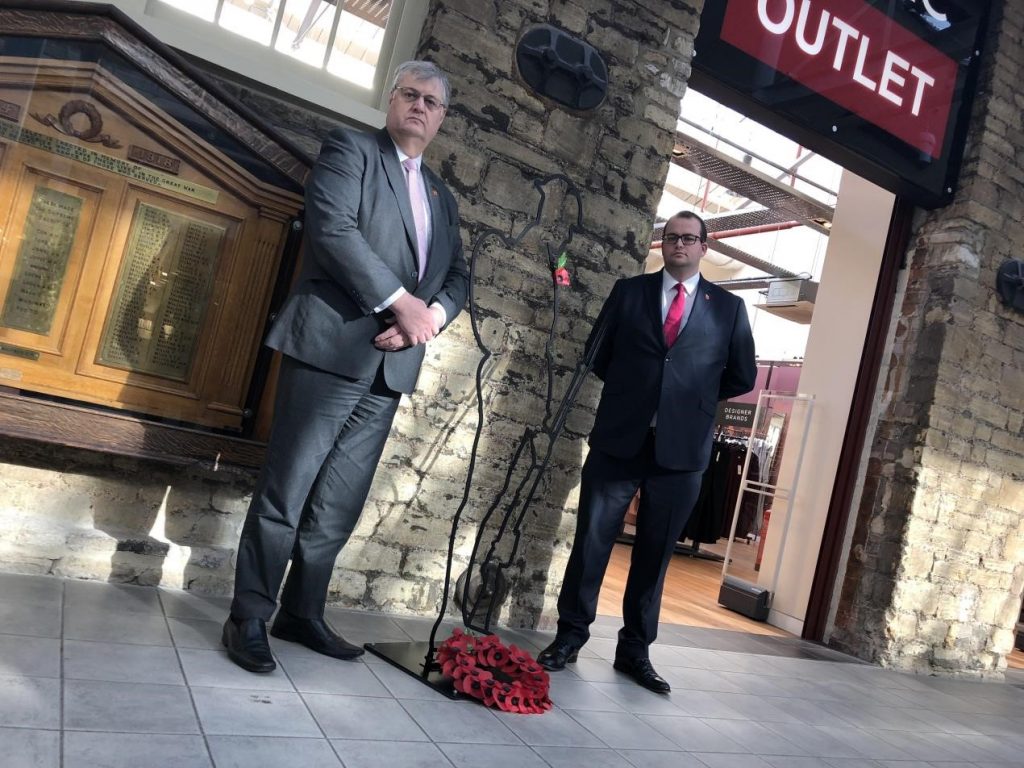 People of all ages and from all parts of Swindon have the chance to pay their respects to the fallen now that a life-size soldier has begun a tour of the Borough.
As part of this year's Remembrance period, a ghostly silhouette of a First World War Tommy will appear at various locations across the town.
The Tommies are part of a countrywide campaign called 'There But Not There', led by the charity Remembered. They mark the centenary of the end of the First World War and will help raise funds for a number of armed forces charities.
The Council's 6ft aluminium Tommy is currently on display at the Outlet Centre. Over the next few weeks it will appear at the Brunel Centre and at Lydiard Park's Walled Garden, to name just a couple of locations.
Tommy will end his tour at the Cenotaph in time for Remembrance Sunday, where he will join other Tommies purchased by other organisations in Swindon.
Councillor Toby Elliott, the Council's Military Covenant Champion, said: "This campaign is a brilliant way to remember those who paid the ultimate sacrifice in terrible conditions in the First World War.
"We want as many people as possible to see the statue, which is why it will be featured at different locations across the town throughout the period of Remembrance.
"As a Council, we consider it an honour to be a part of this campaign as we come to remember all those who lost their lives, not just in the First World War, but in all subsequent conflicts too."
The Tommies, which cost £750 each, have captured the public's imagination, with statues appearing at the Tower of London and the Giant's Causeway in Northern Ireland, among other places.
Councillor David Renard, Leader of Swindon Borough Council, said: "I am very pleased that we are supporting this initiative. It's a poignant and touching way to mark the centenary of the end of the war and to ensure the great tradition of Remembrance lives on."
To keep track of where the Tommy will be appearing, follow #Tommyontour on the Council's Facebook and Twitter channels.