It's up to all of us to know what we must do to keep ourselves and others safe in the weeks and months ahead. The medical advice is clear: you must self-isolate if you have coronavirus symptoms or live in the same household as somebody who does.
The main symptoms of coronavirus are:
For more information, read the further guidance on symptoms.
As soon as you experience coronavirus symptoms, you must:
You can find more information here about the NHS Test and Trace service, including what happens if you test positive for coronavirus (COVID-19) or have had close contact with someone who has tested positive.
Latest government updates
Protect yourself and the ones you love this winter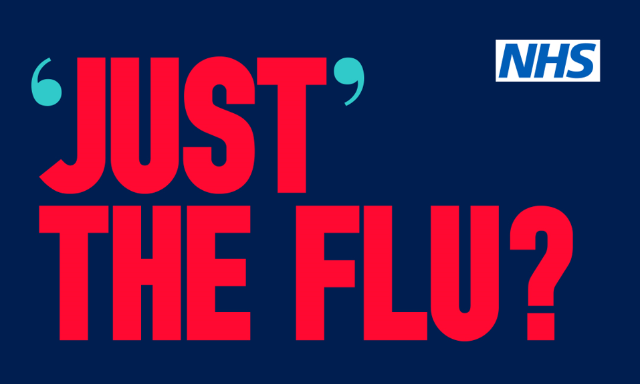 Flu can affect anyone. For most healthy people, flu is unpleasant but tends to resolve on its own. But for some people the effects of flu are much more severe, and in some cases life threatening.
Those most at risk from flu are also most vulnerable to COVID-19. It is therefore critical that if you are one of the 30 million people eligible for a free flu vaccination this year, you get yourself vaccinated.
You may qualify for financial support if you are self-isolating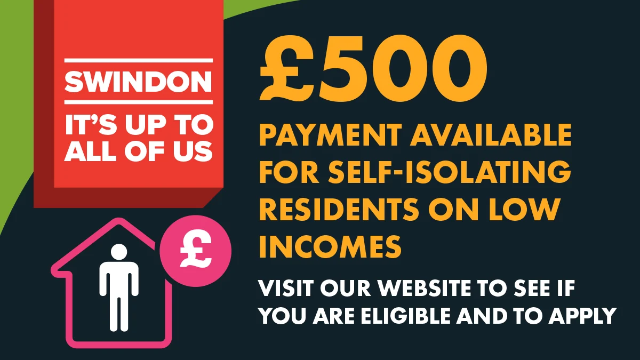 If you're on a low income, unable to work from home and will lose income because you are required to self-isolate, you may be eligible for a £500 Test and Trace Support Payment. Visit our website to see if you are eligible and to apply.
The Test and Trace Payment Support scheme is just one form of financial support available to residents whose income has been affected by coronavirus. Find information on all the available support via our website.
How much do you know about Swindon's local economy?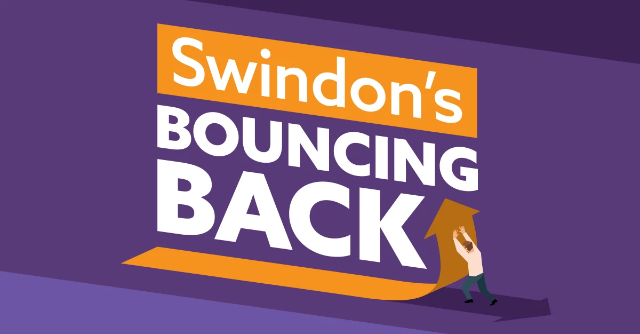 We all talk about supporting our 'local economy' but what does this really mean? From attracting investment to the town, to supporting local businesses, we are using our power, influence and assets to help Swindon's economy to bounce back from COVID-19. Find out what this means for your town by taking this quick quiz.
Supporting Swindon Samaritans
The Swindon & District Samaritans provide an invaluable service to our community and a business grant, which we processed on behalf of the Government, has helped them to continue doing this.
Thank you to Jacob for sharing a few reflections on how they have bounced back from COVID-19 in the video above.
Saturday is #WorldMentalHealthDay and it's important that we all look after ourselves and look out for one another. The Samaritans are there to help you whenever you need it. Call 116 123 or visit their website for ways to get in touch.
Help us improve the work our Customer Services team do
This week is National Customer Service week, and we really want to understand how you feel about the work our team do to help residents. We also want to help understand the importance of excellent service, identify key areas to develop, and sharpen up our customer service skills.
A survey has been created to help the Customer Services team understand how they're performing and help shape the future of the service. It will only take a couple of minutes to complete and your answers will be invaluable.
Temporary closure of A419 sliproad from Monday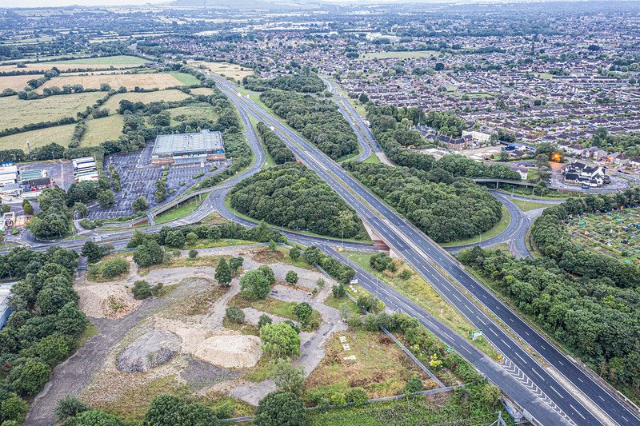 The next stage of improvement work at White Hart junction will see the A419 southbound exit slip road closed for seven weeks from Monday (12 Oct). A diversion route will be in place and the roundabout itself will remain open during this time. Find out more about this scheme, which is one of several junctions being upgraded as part of the New Eastern Villages (NEV) development, via the NEV monthly newsletter.
Improvement work progressing at Mead Way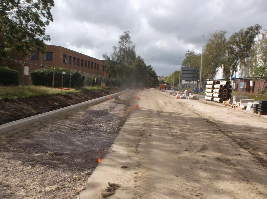 Work is continuing to progress at Mead Way as part of £4m of investment to help increase capacity and improve journey times. Further details of the improvements being made can be found here.
Work has been impacted by COVID-19, meaning it has taken longer than originally planned. We now expect the project to be completed by Spring.
You can sign up to the dedicated monthly newsletter to stay up-to-date with progress.
The next edition of the Highways News e-newsletter will be issued tomorrow. Get the latest updates on road closures and major road projects by signing up to the three-weekly newsletter.
Tenants can book housing repair jobs online
Our online housing repairs portal is quick, simple and available to use 24/7. If you have a non-urgent repair job, report it online as soon as you spot it and select an appointment that's convenient for you.
Customer Services will assist tenants who are struggling to report online or who have no internet access.
Other council news