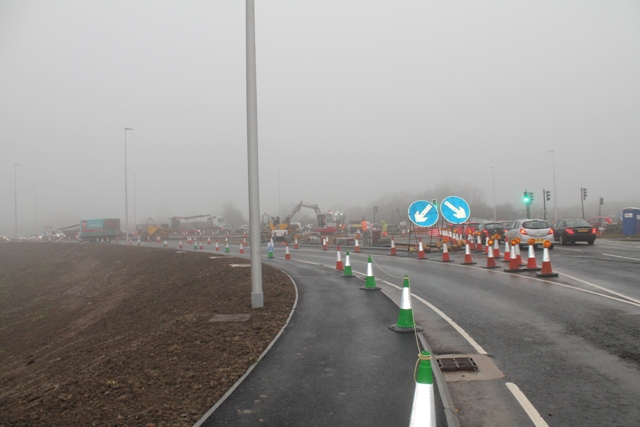 A major junction improvement scheme which will reduce congestion and delays at Junction 16 of the M4 will enter the final few months of construction in the new year.
The £11.5m upgrade of the busy motorway junction has been unfolding before motorists' eyes over the past 12 months with all the major earthworks, drainage works, widening of the highway approaches and utility diversions now complete.
The M4 eastbound exit slip road and westbound exit slip road have also been widened, while last week the work to improve the Lydiard Fields junction reached an important milestone with the lifting of the no right turn restriction. It is anticipated the work will be complete on time next spring.
When finished, the highway interchange will be able to cope with larger volumes of traffic and ensure it can cater for future development in the surrounding areas, including the nearby Wichelstowe development which will see thousands of new homes built over the next few years.
The improvements are being funded by Swindon and Wiltshire Local Enterprise Partnership and Swindon Borough Council as part of the Wichelstowe development. It is being delivered by Swindon Borough Council in partnership with Highways England and Wiltshire Council.
In order to build in extra capacity an off-line right-turn has been created which will allow traffic to move across the junction from the south west to the south east, without the need to cross the motorway. Drivers travelling between Wroughton and Royal Wootton Bassett have experienced how the new section will work in recent weeks.
Currently 45,000 vehicles use the junction each day, which includes 5,500 vehicles an hour during peak periods.
In the future the junction will support up to 61,000 vehicles per day and 8,500 vehicles per hour at peak times.
Over the coming months, the Council's contractor HOCHTIEF (UK) Construction Ltd will focus on completing the traffic islands and carriageways on the widened southern area of the roundabout and the new traffic signals and street lights will be completed. The final surfacing of the junction will be completed, while the traffic signs will also be installed.
Cllr Mary Martin, Swindon Borough Council's Cabinet Member for Communities and Place, said: "This is a hugely complex highway improvement scheme and motorists will have seen the junction really start to take shape over the last few months. After the festive period, this work will continue and we are currently on track to complete the junction upgrade by the spring as promised. "This is the latest investment in the town's highways network and, when the new junction is fully open, it will be much better able to cope with future traffic levels, helping to keep motorists moving and benefiting the economy of Swindon and the surrounding area." 
Further details about the scheme can be found at: www.swindon.gov.uk/junction16
Anyone who would like to receive the latest news relating to the Junction 16 upgrade can subscribe to the Council's Highways News e-newsletter by visiting: www.swindon.gov.uk/newsletter