Swindon Borough Council and Historic England have formally launched the town's Heritage Action Zone (HAZ).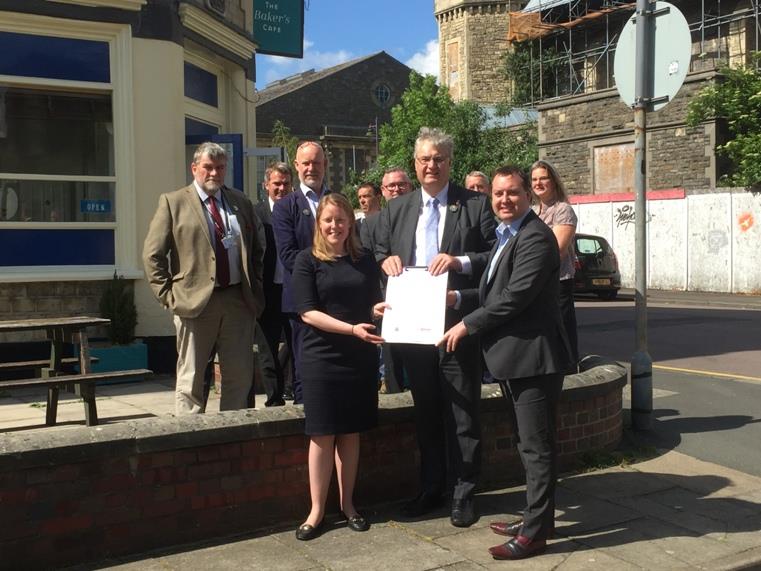 The five-year scheme will bring heritage expertise and £1.6 million of funding from Historic England, who will work with the Council and other partners to revitalise this under-appreciated area of Swindon.
The scheme, led by Swindon Borough Council, will see neglected buildings repaired including the Carriage Works, the Cricketers, and the Health Hydro. It will also improve footpaths, signage and public spaces to better connect the area to the town centre. There will be events, exhibitions, publications and tours to raise awareness of Swindon's history among residents and visitors, and to draw people into the area.
A dedicated Project Officer has already been recruited to lead the HAZ. The first undertaking to get underway this summer will be a review of the existing Conservation Areas and listed buildings and places, and new research to build on our knowledge of the Railway Village. This work will inform all future projects within the HAZ.
Rebecca Barrett, Regional Director for Historic England in the South West, said:
"Swindon has so much to be proud of, particularly the legacy of Brunel's Great Western Railway Works and the village built for its workforce in the 1840s. Whilst some of its historic buildings have already been beautifully refurbished and brought back to life, there are still a number showing signs of neglect.

"But with investment and imagination they can become places for the people of Swindon to enjoy and help the town's economy to thrive. We are looking forward to working with Swindon Borough Council and other partners, including the Mechanics' Institution Trust, to celebrate Swindon's remarkable heritage."
Councillor David Renard, Leader of Swindon Borough Council, said:
"I am thrilled to see the Heritage Action Zone get off the ground. We are extremely privileged to have been selected for this scheme by Historic England and I am sure their expertise will enable Swindon's prized assets to flourish for years to come."
Councillor Dale Heenan, Swindon Borough Council's Cabinet Member for the Town Centre, said:
"The Railway Village is of huge historic significance and we are delighted to have been presented with this brilliant opportunity to make some positive changes to the area.

"I look forward to working with our key partners over the coming months as we collaborate on a whole range of improvement ideas."
David Thackray, Chair of the Mechanics Institution Trust and of the HAZ Stakeholder Steering Group, said:
"The Mechanics' Trust is thrilled to see this project go ahead and to be working with Swindon Borough Council as a partner in it. The Railway Village is special to people from all over Swindon and beyond, and it's great to see it getting the attention and recognition it deserves."
Last year, the Railway Village Conservation Area was voted 'England's Favourite Conservation Area' in a competition run by Civic Voice.