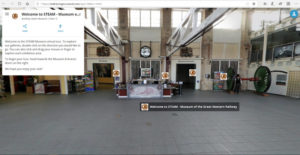 People with a passion for railway heritage can now enjoy the various displays and exhibitions from Swindon's STEAM Museum from the comfort of their own homes during the ongoing coronavirus lockdown period.
The Swindon Borough Council-owned museum, which is currently closed to the public, is offering free virtual 360-degree tours of its popular exhibits.
Isambard Kingdom Brunel's Great Western Railway (GWR) began in 1835 and signified the pioneer's ambitious plan to link London and Bristol – with Swindon being the engineering powerhouse. Swindon Railway Works harnessed the latest technology to design and build the infrastructure needed to transport passengers and goods to locations across the Great Western network.
This excellence for harnessing new technologies and connecting users lives on today in Swindon. Through the new interactive virtual tour of Brunel's famous STEAM Museum visitors can explore the galleries of the museum, see iconic GWR locomotives and memorabilia, access home-schooling resources, and play interactive games from home.
STEAM has teamed up with Swindon-based Cognica Limited to develop a high-resolution virtual tour that utilises the company's new cutting-edge Insite360 platform. The release of this progressive panoramic experience has been spearheaded by the Council's drive to stay connected with members of the public unable to visit STEAM due to the coronavirus pandemic.
Councillor Dale Heenan, Swindon Borough Council's Cabinet Member responsible for STEAM, said: "Swindon's STEAM Museum is joining the Vatican, Guggenheim in Bilbao, Natural History Museum London and the Pitt Rivers Museum in Oxford by offering a cutting edge virtual 360 degree tour. Best of all it's free!
"This is an exciting new experience for local residents, families and fans of GWR worldwide. Visitors will have a different experience from being there in person because there is exclusive content and information embedded within the tour, but it is a real 360 tour.
"We are trying to think differently about people engaging with our history, our art,  our heritage and I hope residents enjoy the tour."
Aaron Francis, Account Support Coordinator at Cognica, said: "We've really enjoyed collaborating with STEAM on this immersive project and to showcase the benefits of our new Insite360 platform. STEAM is the first venue in the UK to utilise this new technology and I'm sure Mr Brunel would be proud of the results we've achieved.
"Cognica's driving aim is to help organisations visualise their surroundings using high resolution 360-degree panoramic photos and laser-accurate point cloud technology. STEAM kindly allowed our engineers to scan their wonderful Museum and I really hope users enjoy the experience."
The new Virtual Tour will be available from today (20 April) through the museum's website or follow the links via STEAM's social media channels.
To find out more, visit: www.steam-museum.org.uk
Follow STEAM on Twitter @steam_museum and Facebook: @steammuseum