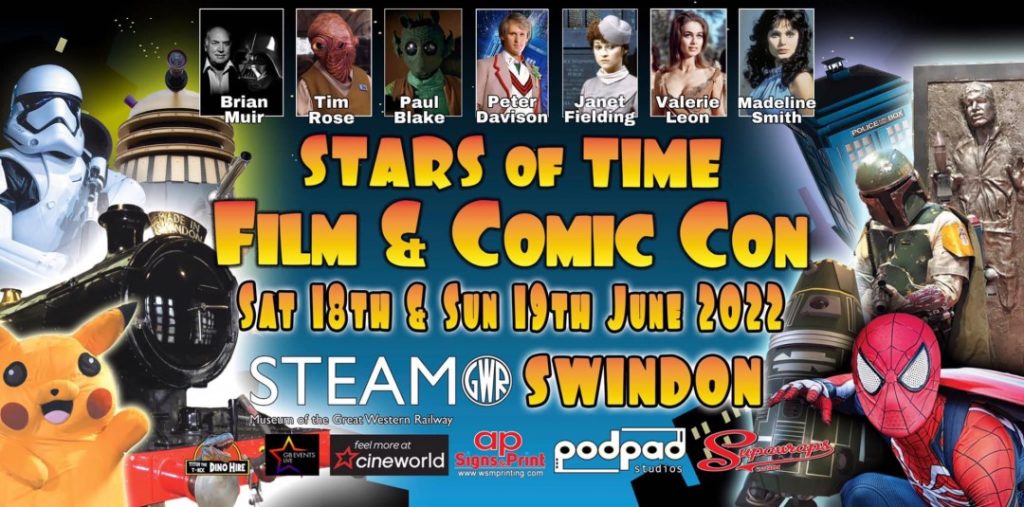 A brilliant line-up of special guests have now been confirmed for Swindon's Stars of Time Comic Con, which will take place at STEAM later this month.
The fifth Doctor Who, Peter Davison, and his companion Janet Fielding, Bond girls Madeline Smith (Miss Caruso, Live and Let Die) and Valerie Leon (The Spy Who Loved Me and Never Say Never Again) are just some of the special guests scheduled to attend the event on Saturday, 18 and Sunday, 19 June.
With the recent announcement that Ncuti Gatwa will take over from Jodie Whittaker as the latest Time Lord in Doctor Who, the Comic Con is a great opportunity for fans of the hit show to discover immersive displays, eye-catching props and characters from the TV show in the event's dedicated 'Doctor Who Zone'.
Janet Fielding will be returning to Doctor Who later this year as Tegan Jovanka as part of a special episode celebrating the centenary of the BBC. The fifth Doctor's companion will be appearing on both days of the event and visitors are invited to book a photoshoot with the actor for an extra charge.
For Star Wars fans, Paul Blake, who played Greedo, and Tim Rose, who portrayed the character Admiral Ackbar in the epic space-opera franchise, will be appearing on the Saturday.
George Burrows, event organiser at Stars of Time, said: "We are thrilled to have so many fantastic TV and movie personalities coming along to Swindon's first Stars of Time Film and Comic Con event. As well as being able to see brilliant actors, visitors to the event will be able to meet sculptor and artist Brian Muir who created Darth Vader's helmet and armour.
"The whole experience will provide a real 'wow' factor for visitors, and we look forward to bringing the fantasy worlds of Doctor Who, Ghostbusters, The Neverending Story, Jurassic World, Bumblebee and Stranger Things to life with incredible photo opportunities and animatronic displays. Visitors will also come face-to-face with iconic villains including Daleks and Cybermen, plus costuming groups such as the MK Garrison and the Joker Squad."
For the first time ever on public display at an event, a unique movie-inspired bike collection created by local model and prop-making company Podpad Studios Ltd will be on show in the 'Movie Scene Zone'.
Gamers will be able to experience life through virtual reality with SAF-VR for free at the event. Those attending can fly through a city like Iron Man, battle zombies in an abandoned train station, or walk the famous plank!
Councillor Matty Courtliff, Swindon Borough Council's Cabinet Member for Culture, Heritage, Leisure and Town Centre Experience, said: "This promises to be a fantastic weekend for pop-culture fans and we're delighted to be hosting the event at STEAM. I used to watch Dr Who and Star Wars with my dad so it's great to see some of the characters coming to Swindon.
"George and the team have done an amazing job organising such a great line-up which is sure to be a big draw for fans. I would encourage anyone who hasn't booked their tickets yet to visit the STEAM website to avoid disappointment."
Fans attending the Comic Con are encouraged to arrive dressed up as their favourite TV, film or other fictional character and will be able to enter a free cosplay competition during the weekend for a chance to win cash prizes.
Thousands of collectables will be on offer in the form of an auction, and many more will be on sale from the UK's top traders. Stars of Time has partnered with Cineworld Swindon Shaw Ridge to offer visitors the chance to bid for exclusive cinema items. It's the perfect time for fans to get their hands on replica props, clothing and original artwork, plus cinema posters and banners from the movies.
Admission prices are £16.50 for adults, £12 for children and £49.50 for family tickets (either two adults and two children, or one adult and three children). Under threes go free. Tickets include entry to the event, plus admission into STEAM's award-winning museum displays.
The event is being sponsored by Swindon-based PodPad Studios Ltd.
Tickets for the event are on sale now at: www.steam-museum.org.uk
For updates on the programme, follow STEAM on Facebook and Instagram (@SteamMuseum), or Twitter (@Steam_Museum).