This is a message sent via Wiltshire and Swindon Community Messaging. This information has been sent on behalf of Wiltshire Police.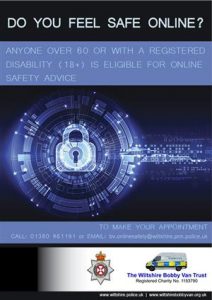 The Wiltshire Bobby Van Trust has been securing the homes of older people for nearly 20 years. Responding to the changing needs of the County, they are working in partnership with Wiltshire Police to launch a bespoke Online Safety Initiative.
If you are aged over 60 or registered disabled, aged 18+ and are concerned about your online safety, you will now be able to request a visit from one of our trained Online Safety Volunteers.
Referrals can be made via www.wiltshirebobbyvan.org.uk, call 01380 861191 or email bv.onlinesafety@wiltshire.pnn.police.uk.