CHISELDON PARISH COUNCIL REPORT
Points of interest from the meetings held in
May 2022
Facebook page – Chiseldon Parish Council Notices
email: clerk@chiseldon-pc.gov.uk; telephone: 01793 740744
Neighbourhood Plan – its for life not just for Christmas!
The group is making progress and I think they are also enjoying digging into the history, diversity and needs of the Parish with regards to housing, transport/traffic issues and ecology.
We are a friendly bunch meeting every 1 or 2 months to provide update reports and share jobs.
Perhaps you'd like to join us for the next one and see where it fits into your lives and the future of the community?
Annual meeting update
Our annual meeting was held on Monday 9th May.   Cllr Matt Harris was voted back in as Chairman and Cllr Justine Randall voted back in as Vice Chairman.  All committees were approved for a further year.
Annual reports from the Chairman, committees and partner organisations will be loaded up onto our website.
We also had a visit from John Derryman who works on Community Speedwatch in a voluntary capacity with the PCC, and Deputy of the PCC Russel Holland, along with PCSO Victoria Bradley to talk about local and county crime.   Further information of their discussions and Q&A will be included on our website.
It was noted that Community Speedwatch needs around 10 volunteers to fully monitor speeding in a parish the size of Chiseldon. The group currently have 4.  Please contact the Clerk if you are interested.  A taster session can be arranged to see if this is something for you.
Pop-Up Safety event
On Saturday 30th April between 10.00 and 12.00 we had representatives from the Police, Neighbourhood Watch, and Bobby Van in Strouds Hill carpark to offer advice and listen to any concerns people had over personal safety, home safety and crime issues within the parish. The fire brigade didn't make it due to being on active service and having a call out.
The sun shone on us all morning and those who visited came away with lots of tips and advice, and many kids big and small got to sit in the police car and try on some police hats.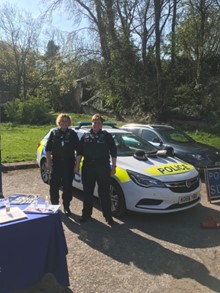 Chiseldon Road Closures
Butts Road will be closed from 27th to 29th June (expected dates) for Thames Water work. For further information contact 01793 463040 quoting reference STR000348
High Street will be closed from 29th June to 1st July (expected dates) and will prohibit vehicles from proceeding on High Street outside Beechgrove between Station Road and Butts Road for Thames Water work For further information please contact 01793 463040 quoting reference STR000352
Scarrotts Fair
At the time of going to press we hope to be able to arrange for Scarrotts Fair to come to the Rec ground in Chiseldon. They will mainly bring smaller rides and inflatables so they don't damage the field with large vehicles.
The Parish Council hope to be able to give away some free tickets to local children – keep an eye on our Facebook page or website for more details.
Grant awarded.
A small grant was awarded to a volunteer group set up to protest the use of the roads through Chiseldon by HGV vehicles. The grant covers their printing costs for posters, banners and promotional materials.
Subscribe to the Parish Council's newsletter:
To receive regular updates on Parish news, go to our website www.chiseldon-pc.gov.uk and go to the "Subscribe" option at the foot of every page.
Enter your email and receive weekly updates from us direct to your in-box.
Alternatively email the Parish Clerk who can set up your submission for you.
Speed Watch Volunteers – a message from the team.
Vacancies for Chiseldon
We are looking for Volunteers aged over 17 to join the team to help deal with the local issues of speeding. The Community Speedwatch is co-ordinated by Wiltshire Police, if you are interested or would like more information, please contact the Chiseldon Parish Clerk (Clair Wilkinson) who will pass your details to the local co-ordinator.
More information can be via the Wiltshire Police website www.wiltshire.police.uk  and searching for "Community Speedwatch".
Queen's Jubilee event Friday 3rd June 2022
Work has progressed well with this event.  My personal thanks to all the volunteers who are helping to arrange this. We could not have done this without you.
Some of our confirmed items include: Hog Roast, Bouncy Castle, Curry, Pizza, crazy golf and a Bar to name but a few.
Our main focus now is to get some more music/dance acts to appear on the stage and also make sure we have enough craft stall holders.  We have a DJ booked until 9.00pm but would love to have some local music acts in between.
Please contact the Clerk if you can help or know of any likely acts or craft sellers.
Memory Café next date – Jubilee celebration.  
The popular memory café is next running Friday  3rd June 2022 10.30am at the Church Hall off Butts Road.  The café was created for anyone who wants some company and a chat over a cup of tea or coffee.  Also for carers who look after anyone with Dementia or Alzheimer's to come along with their loved ones.  There is singing and dancing, all very informal and fun.   There is no charge to attend.
Recreation Hall, Recreation field and Chapel hire:
The Rec hall off Norris Close, the Rec field in the same location and the Parish Council Chapel offices are all available for hire for events, meetings or parties.
Please contact the Clerk on the details above who can advise of charges, availability and what space would suit your needs.
Defibrillators – a reminder
A reminder that the Parish has 4 defibrillators – one outside Cameo Hairdressers on High Street, one outside the Pavilion on the Recreation Field, one outside the Calley Memorial Hall on Draycott Road and one in the BT Box in Badbury.  All units are accessed by calling 999 to gain the code for the box. You cannot use these defibrillators on someone who doesn't need it as the machine will not work. It also provides audible instructions on how to use them.
There is also a defibrillator on the outside wall of the school in Ogbourne St George.
 OPEN FOR 2022/23 SUBMISSIONS – Parish Council Grants and Donations fund & Calley Memorial Hall fund
The Parish Council have an annual fund that we can donate to worthy causes within the Parish. If you are a group, charity or society that believe you could benefit from this fund then please contact the Parish Clerk for further details.
The trustees of the Calley Memorial Hall fund are also able to approve grants and donations to worthy causes within the Parish.  (This doesn't have to be connected to users of the Memorial Hall). Please contact the Parish Clerk in the first instance who can provide you with an application form.
(It should be noted that this fund is not connected to the Parish Council)
 Next Parish council meeting
The next Full Council meeting of the Parish Council will be Monday 13th June  2022. This will start at 7.30pm at the Rec Hall off Norris Close. There is a public recess at the start of proceedings, after which residents can choose to leave the session.      Meeting locations may change so please verify the location before making a journey. Our committee meetings will now meet in the Chapel Office on Butts Road.