Points of interest from the meetings held in February 2021.
New Councillors Co-opted
We are pleased to announce that 1 new Councillor was co-opted on Monday 8th Feb at our Full Council meeting.
Danielle Simpson has lived in Draycot Foliat for 2 years with her partner. She moved to the area for work and decided to settle. She works in the housing industry and owns a dog which sees her out and about daily.
Danielle will be investigating joining the Planning, Highways and Transport Committee.
We still have 2 spaces available for new Cllrs to join us and would welcome any application.
10 year national Census
The 10 year Census is due again in March 2021. Even with Covid restrictions in place, the Office for National Statistics are confident they can still roll out the Census successfully. Completing the Census form is mandatory but there is plenty of help available.
Visit https://census.gov.uk/
Their contact centre will be open on 1st March, where you can call, webchat, email and text for help. (The number has not yet been released on their website).
Parish Council Grants awarded
The Parish Council voted to award a small grant of £55 to the residents group "Chiseldon Parish Residents for Better Broadband" who have formed to encourage the sign up to the new Openreach Fibre broadband scheme. The grant is to help cover their printer costs for leaflets and posters.
The council also voted to award the final £80 in the budget for this financial year to Julia's House hospice in Devizes, that provide help and support to families caring for a child with a life threatening or life limiting illness.
New Road Build Out Survey
A while ago a survey was created on-line and a link provided on the Chiseldon Community Facebook page asking for feedback on the Build Out on New Road.
The survey is still open if anyone wants the link and at the time of going to press we aim to deliver approx. 200 paper surveys to everyone living nearby to make sure we get as many responses as possible. Please contact the Clerk if you would like the link to the on-line survey or a paper copy posting to you.
Poll on new Play equipment for the Rec Field
An informal poll was held on the Chiseldon Community FB page to ask residents what type of equipment they'd like to see at the Rec field, which is one of our current projects. If you'd like to provide any input then please do contact the Clerk who will add your comments to the poll count.
Quotes Required.
Quotes are being gathered in to replace the black tile flooring at the park in Castle View Road and we welcome any local businesses who would like to submit a quote to get in touch. We would like a quote for Grass mat but are open to other suggestions if they are cost effective, with good longevity and vandal resistant. If you would like more information or to submit a quote, please email nina.hempstock@chiseldon-pc.gov.uk Any quotes need to be received by 15th March 2021 please.
Food box update and help from Citizens Advice.
If you need regular help every week with food boxes because you are shielding with no local help available, or you are suffering financial hardship as a result of Covid, there are ways you can get help.
Swindon Borough Council are continuing to provide all sorts of help with food and grants, for anyone in food poverty or suffering financially. They can also provide help with priority online shopping slots at either Tesco or Iceland for people who are isolating but can afford to buy food. You can contact them on their Customer Services telephone number 01793 445500 to find out more about getting regular help. They are available to provide support from Monday to Friday, 9.00am to 5.00pm (except Tuesdays when they close at 4.00pm). For more information please visit their website COVID-19 – Support for people who need help | Swindon Borough Council
There is some information under 'Financial Help' which may be useful here: Coronavirus (COVID-19) – main page | Coronavirus (COVID-19) – What you need to know | Swindon Borough Council
We have also been made aware of a scheme where shops provide their food that is shortly going out of date but fine to eat to local "Food Waste Hero's" who can then distribute in their local community. There is a lady called Nicki who lives in Chiseldon who is a one such hero and is happy for people to contact her on WhatsApp if they need any food supplies during these tough times. Nicki will be holding weekly free food collections from her house, and you can access this service in complete confidence. You would need to contact Nicki on 07487 305675 via text and she can help. She will add you to a WhatsApp group listing what is available and you can contact her to make a request. You can try texting Nicki anyway even if you don't have WhatsApp. Please note this isn't a Parish Council backed scheme and we take no responsibility for you using this scheme. Please ensure you are happy to share your number before joining up.
You can also contact Citizens Advise for help on
0808 2787813 Swindon Adviceline
0800 1448 444 Help to Claim Universal Credit
0800 3161 442 Consumer Helpline
All calls are free from mobiles or landlines
Direct Email – General public can contact us via the form on our website
https://www.citizensadviceswindon.org.uk/contact-form
Referral – We accept referrals from local and national statutory bodies and Voluntary Sector partner agencies. To make a referral by email: https://www.citizensadviceswindon.org.uk/referral
Public website – Available to all – for people who can self-help/ navigate (updated daily) https://www.citizensadvice.org.uk/
Coronavirus Page https://www.citizensadvice.org.uk/health/coronavirus-what-it-means-for-you/
Universal Credit Help to Claim service (includes online chat) https://www.citizensadvice.org
Redundancy https://www.citizensadvice.org.uk/work/leaving-a-job/
If anyone is isolating at the moment and needs local assistance with shopping, prescriptions, dog walking etc then please either call the Parish Council's helpline on 07570 167 455 and leave a message or email nina.hempstock@chiseldon-pc.gov.uk or Clerk@chiseldon-pc.gov.uk and we will get someone to help you. Likewise if you would like to volunteer to help please email Nina and she will add you to our list. Thanks
Earthline Appeal and New Road/Hodson Road
We still await the result of the Government Inspectorates decision on the planning application by Earthline that was refused permission by Swindon Borough Council. Until this decision has been received, SBC cannot do any work on speed/weight/no HGV's on New Road and Hodson Road. When the results are announced, we will ask our Ward Cllrs to keep us informed of what SBC propose to do so we can offer our thoughts on how best to handle the situation to benefit residents.
Grit Bins
There are a number of grit bins throughout the parish that can be used on public roads and pavements in the event of ice or snow. Please don't use them for private driveways as there will not be enough for everyone. If a grit bin is low or empty you can report to the Parish Clerk or report direct to SBC.
Castle View Play Area and outside Gym closed
The outside gym on the Rec field remains closed according to lockdown legislation. Please do not try to use this equipment. The Parish Council also took the decision to close the Castle View play area. With the NHS and Great Western Hospital reaching crisis point, if we can reduce possible cases by closing down an area with a lot of touch points, we felt it had to be done for the long term good. We will review this when the lockdown is over and new rules are in place.
New Castle View Play area equipment installed
A new climbing net has been installed in the play area ready for when it re-opens. The old wooden equipment which was at the end of its life has been removed.
Talking Pirates at Castle View Play Area
A new piece of equipment has already been purchased for the play area and the installation quote was signed off on Monday 8th Feb. The talking pirates are talking tubes set apart where children can talk to each other via the pirates mouthpiece! (A modern version of 2 tin cans and a piece of string!)
Moss removal from pavements around the parish
Funds were approved for the annual moss removal from pavements. This covers areas in Draycot Foliat, Badbury and Chiseldon. If you spot an area that needs attention please let the Clerk know who will add to the next list. This is for safety and not aesthetic reasons.
Fibre Broadband Update.
Pledges are still required to get this scheme to target. The pledges are around 70% currently.
Openreach are proposing a scheme to lay high speed fibre for broadband within certain areas of the parish. Currently residents who wish to benefit and subscribe to any such new service are being asked to pledge their vouchers towards this scheme. A pledge means you commit to purchase this new service from one of the suppliers once it is installed. There are no other costs involved but you must be prepared to take up a new service once installation is complete for a minimum of 12 months.
You can visit http://www.openreach.com/connectmycommunity to find out more or read the threads on the Chiseldon Community Facebook page.
The Chiseldon Parish website also has a Q&A section which you can read, as well as being posted on the Chiseldon Community Facebook page. Please contact the Clerk for a copy of the document via email if you can't access our website or don't use social media. There will also be a resident's leaflet from "Chiseldon Parish Residents for Better Broadband" appearing through doors shortly with a further update.
https://www.chiseldon-pc.gov.uk/news-and-events/current-issues/openreach-fibre-qas/
BMX Track Working Party update – new members still needed
Update from the group: At the February 2021 meeting, the group talked with Sustrans, the current leaseholder of the land adjacent to the Farm Shop, along the old railway path. Sustrans aim to provide & promote both cycling and walking on their land, they are in broad agreement with this site being the preferred location for the new track.
After investigating other suitable locations, the group and Sustrans agreed that this site is the most favoured option moving forward. Work will now be done to investigate whether this site is suitable for a track and altering the lease arrangements as appropriate. The Parish Council will be approached in March to broadly approve and support this plan.
---
The Working Party are looking for adults and teenagers who can join the Working Party to investigate the installation of a BMX/pump track within the parish for everyone to enjoy. This group will be working independently of the council but will report back to the council as they will be the owner/leaseholder of the site and manage repairs, insurance and land use etc. This is a long term project and relies on public support to be successful. Anyone with Project Management, Fund raising, budgeting, design etc would be welcome. Please contact the Clerk on the details at the top of this article if you'd like to know more or help them and we can put you in touch.
We are currently Co-opting for 2 New Parish Councillors – Community Heroes wanted.
Chiseldon Parish Council needs you! We are calling for community heroes to put themselves forward for one of TWO vacancies on our local Parish Council. We want people of all backgrounds and experience to represent the community and help #MakeAChange.
There are five simple steps to becoming a Chiseldon Parish Councillor:
Contact the clerk to find out more information, whether there are any vacancies and register your interest
Submit your nomination to the clerk — a brief summary of who you are and why you want to be a councillor
Join a council meeting via MS Teams to meet the team and share your nomination with current members – don't be daunted by this, we are a small very friendly bunch!
Current members will vote on approval of your membership (called co-option)
If accepted, you will sign the declaration of office of acceptance and become a Chiseldon Parish Councillor
Please email clerk@chiseldon-pc.gov.uk for more information or call (01793) 740744, leave a message with your name and number and we will call you back. Many thanks.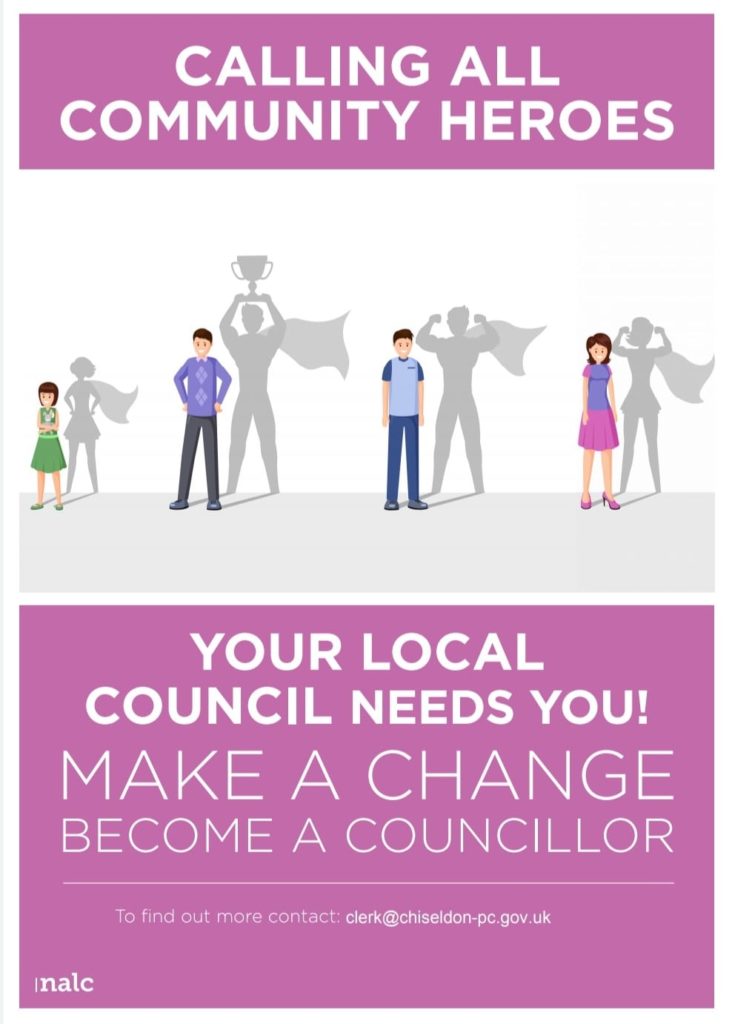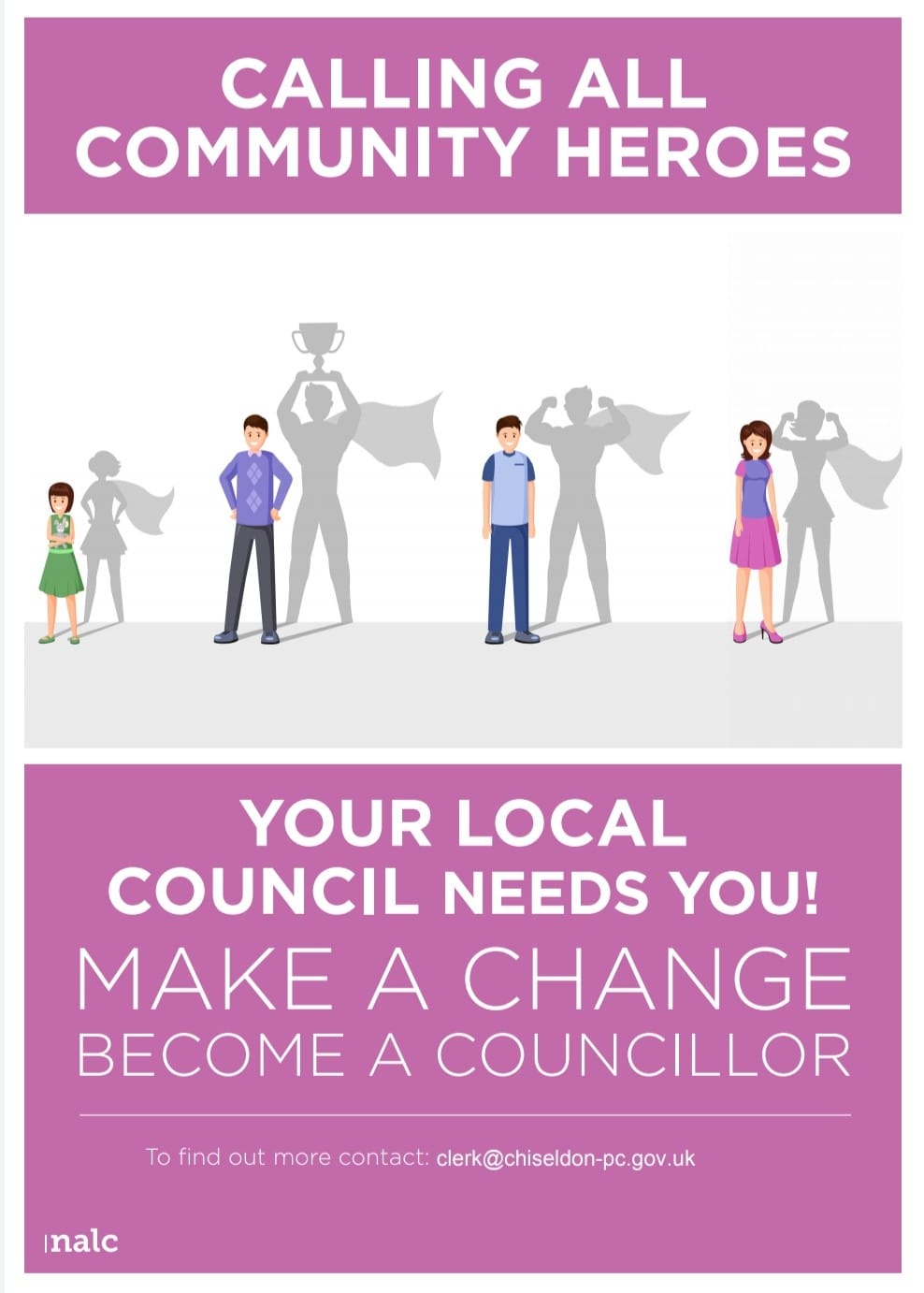 What is Co-option?
Co-option is a method whereby a Parish Council elect new Councillors by majority vote. This can happen after an election if not all seats are filled (an un-contested election), or upon the resignation or death of a Cllr between election periods.
Candidates would present themselves to the existing council members at an applicable council meeting who would then vote on the successful applicant.
Local grants and funds available
The Parish Council have set up a short term sub-committee to look into grants and funds that are available to benefit the parish. The committee will look to set up a "wish list" of what the parish needs and can then look at what funds are out there. There is the scope to add residents to this committee so please contact the Clerk in the first instance if you think you can spend some time to help investigate this.
Defibrillators – a reminder
A reminder that the Parish has 3 defibrillators – one outside Cameo Hairdressers on High Street, one outside the Pavilion on the Recreation Field and one outside the Calley Memorial Hall on Draycott Road. All units are accessed by calling 999 to gain the code for the box. You cannot use these defibrillators on someone who doesn't need it as the machine will not work. It also provides audible instructions on how to use them
Update – there is also a defibrillator on the outside wall of the school in Ogbourne St George.
Parish Council Grants and Donations fund & Calley Memorial Hall fund
The Parish Council have an annual fund that we can donate to worthy causes within the Parish. If you are a group, charity or society that believe you could benefit from this fund then please contact the Parish Clerk for further details.
The trustees of the Calley Memorial Hall fund are also able to approve grants and donations to worthy causes within the Parish. (This doesn't have to be connected to users of the Memorial Hall). Please contact the Parish Clerk in the first instance who can provide you with an application form.
(It should be noted that this fund is not connected to the Parish Council)
Home Library Service – check service as may currently be suspended.
There is a Home Library service for Chiseldon Parish. It is run by volunteers and covers all areas of the parish and can deliver books based on your preferences. Call 01793 465 495 for more details.
Next meetings
All Parish council meetings are currently on MS Teams. Please contact the Clerk for login details.
The next Full Council meeting of the Parish Council will be on Monday 8th March 2021. This will start at 7.30pm and will be held remotely. Residents are welcome to login and there is a public recess at the start of proceedings, after which residents can choose to leave the session.
PARISH COUNCIL OF CHISELDON (Chiseldon and Lawn WARD)
VACANCY FOR COUNCILLORS
Notice is hereby given that by reason of an uncontested election on 2nd May 2019, a number of vacancies has occurred among the members of the Parish Council.
Any person willing to fill this vacancy should apply to the Clerk in writing (email is acceptable) on or before Wed 3rd March 2021.
Applicants should be free the evening of Monday 8th March 2021 to attend the Parish Council meeting at 7.30pm for the co-option voting procedure via MS Teams.
Being a Parish Councillor is an opportunity to provide time and knowledge to the area where you live in order to help make it a better place.
You will be working with like-minded people who come together as volunteers for the good of the parish.
The applicants name must appear on the current register of the Voters List or the applicant should during the whole of the 12 months preceding the relevant date have resided in or within 3 miles of the parish or the applicants only place of work during the whole of the 12 months preceding the relevant date is in the parish.
The applicant must not be disbarred from standing as a councillor. Applicants living in Badbury Ward meeting the above criteria are also welcome.
Candidates (if successful) should be able to attend Parish Council meetings which can be seen here: https://www.chiseldon-pc.gov.uk/committees/parish-council/
Dated 12th February 2021
Signed: Clair Wilkinson, Parish Clerk
The Old Chapel
Butts Road
Chiseldon Wilts SN4 0NW