We thank Dick Eastwood for supplying a fascinating story of a piece of Chiseldon's history
FOWLER 1908 RESTORATION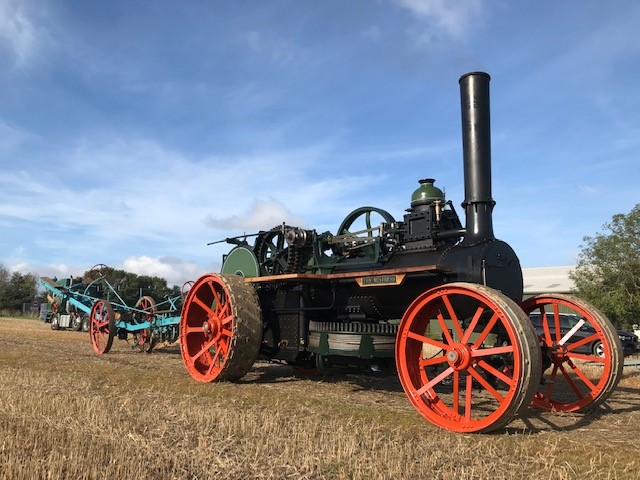 Our congratulations go to Paul Ransley on his outstanding restoration of Fowler number 1908 of 1873 which propelled itself under steam for the first time in 92 years on 13th August. A month later the rope was put on and on the 17th September it set to work ploughing at the Weald of Kent Ploughing Match at Hawkenbury, Tonbridge. This was the culmination of 17 years of design, drawing and engineering effort, the details of which are well beyond the scope of this short article in which a summary of the engine's long history is covered.
This 12hp single cylinder ploughing engine was new to Harman E. Visger, Chiseldon, near Swindon, Wilts., and left the Steam Plough Works on Tuesday, 11 February 1873, for delivery via Midland Railway.  The following year, Visger took delivery of a similar engine, number 2299, which was dispatched on 30th September 1874. They remained together throughout their working lives until 1944.
In 1872, Visger had taken over the Chiseldon Foundry business – Iron & Brass founders, Engineers, Machinists, Agricultural Implement makers – together with the Steam Cultivation and Contracting business comprising a pair of 10hp, horizontal-shaft, single cylinder, steam ploughs and tackle – from Charles Kell & Partners. Four years later, Harman Visger instructed the sale by auction of his Foundry business, including the 12hp ploughing engines nos. 1908/2299 and the 10hp nos. 1134/1146.
Fowler's 1908 and 2299 worked together for 56 years with a number of owners, both receiving new Fowler boilers around 1912, before being laid up in 1930. In 1944 they were sold to Watson & Haig, scrap and engine dealers of Andover, Hampshire. From here they went their separate ways and were used as portable boilers for supplying steam to sterilize soil in greenhouses. 2299 was scrapped in 1956.
1908 was stripped down to a bare boiler and cylinder block mounted on smaller wheels and ended up in a nursery on the Isle of Wight. By the early 1960's, the boiler was no longer required for raising steam and it was bought by an enthusiast with a view to restoring it. This did not happen and around 1979 it was sold on to another with a collection of steam engines.  On 6th October 1989, the remains of 1908 comprising boiler, fire box, smoke box, ash pan, chimney and single cylinder steam chest mounted on steam tractor front wheels were auctioned at Rye as Lot 308. This Lot was purchased by a buyer in Lancashire for the pair of Wallis & Stevens wheels it was mounted on, and, the front axle and centre pivot, being items required for the restoration of his Wallis tractor and a Burrell agricultural TE respectively.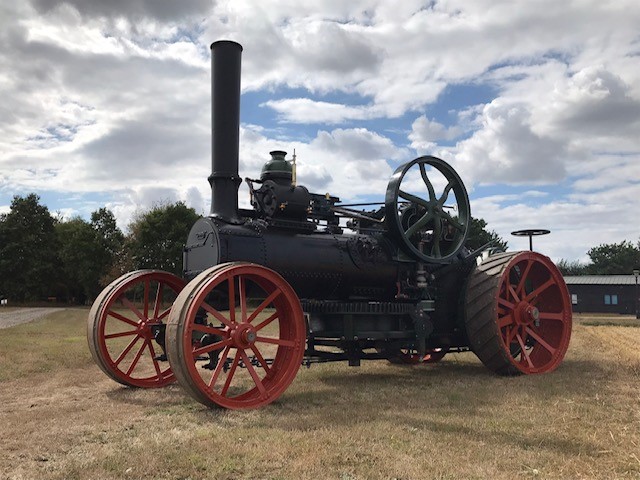 The next buyer was Alwyn Rogers of Burnley, Lancs., who bought what remained of 1908 as the engine was being cut up in a scrap yard outside Preston on 26th October 1989. After failing to raise funds to undertake the restoration, through sponsorship or seeking Lottery Funding, the parts which had been saved, together with spares bought from Henry Beeby at Rempstone, were offered for sale. By this time the boiler had been condemned and scrapped in view of the corrosion and design limitations.
Paul Ransley purchased the remains from Preston Services of Canterbury in April 2005 and so began the enormous task of the restoration.
Paul said "My intention from the outset was to rebuild the engine as closely to the original as possible, with short smokebox, stovepipe chimney, coffee pot cylinder cover, cast extended perch bracket, tank steering and friction-drive back wheels etc. As a new boiler was necessary, a set of drawings for the design had to be submitted for approval before manufacturing could start. Major components were drawn on CAD to ensure they would fit the new boiler. This took the best part of two and a half years."
Casting patterns produced from Paul's drawings were used to reproduce major components, and Paul fabricated the remainder as time and finances permitted. A substantial number of parts were acquired, some quite by chance, and added to what was left of the original engine. The cylinder cover for example was one of a number being used as flower pots by the Desborough family!
The sign-writing on the tender says it all "Originally built by JOHN FOWLER & Co. LEEDS 1873  Rebuilt by P. RANSLEY, TONBRIDGE KENT 2023". The road registration given on 21 January 1921 – HR 3666 – remains. And, the engine now has a name "THE MISTRESS". This is probably best explained by Jan Ransley "THE WIFE"?
With acknowledgement to Alwyn Rogers' research and comprehensive history, and thanks to Paul & Jan for their help and photos.
Dick Eastwood.