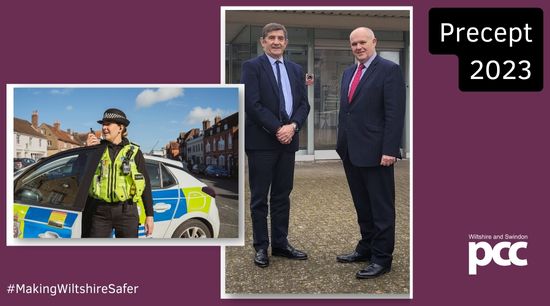 A message from Crime Commissioner Philip Wilkinson:
My annual budget proposed a raise the amount of money you pay for the policing part of your council tax, known as the precept, by 6.2%.

For an average Band D household, that equates to £15 a year or £1.25 a month.

It's been a difficult decision to make and that's why it was important we consulted you.

Over 2,700 people responded to the survey. We also took it out across Swindon and Wiltshire to gather your feedback. I'd like to take this opportunity to thank you if you took the time to complete it.

54% of people who responded said they would be prepared to support a maximum rise but it's important to make clear why I asked you to support that option.

Without putting up the precept, Wiltshire Police would need to save over £4m in the next year. Even by increasing the precept, savings will be key but I'm confident this will happen at the same time as delivering a better service.

We will put 32 extra police officers on the streets of Wiltshire, in addition to the new Uplift officers. We should have 1,189 police officers by the end of March this year – the highest number for quite some time.

I am constantly speaking to our local MPs and government ministers about the funding formula. We need a fairer system which provides our police force with the investment equal to forces similar to ours.

By raising the precept, we can show we are playing our part in funding our police force and this puts us in a stronger position.

With more officers on our streets and a better use of our existing funds, I hope you will see an improvement in the service you receive and see value for money in the measures I've taken to make Wiltshire a safer place to live and work.