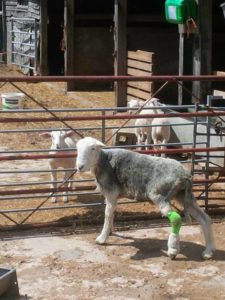 HELP ERIC: AN UPDATE
Thanks to the generosity of Niall Jones, Eric has temporarily moved to a nearby farm where he can be closely monitored and treated on a daily basis. This relieves the pressure on our volunteers and will ensure that Eric gets the expert attention that he needs. As you will see, he is already making new friends and we are hugely grateful to Niall for his support and advice.
However, we still need to pay for Eric's veterinary bills and his medicines – and we… also need to urgently replenish our funds in case any further sheep are injured or require attention.
Over the next few weeks we now need to raise around £500 to make sure we can continue to offer adequate care to Eric and to the other members of the Washpool flock. If we cannot find this additional support we may have to put a time limit on Eric's treatment or consider re-locating the sheep away from the village.
IF YOU WOULD LIKE TO HELP THEN PLEASE CONSIDER MAKING A DONATION
You can donate by looking out for collecting tins around the village or by placing your donation in an envelope marked 'Eric' and dropping it off at Lavender Cottage, 26 Turnball (at the Hodson Road end). Cheques can be made payable to WARP.
There is also a Just Giving page at:
https://crowdfunding.justgiving.com/Help-Eric
THANK YOU