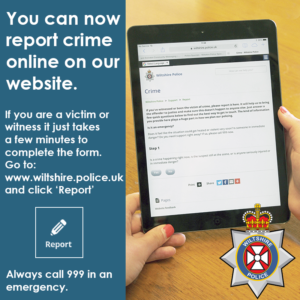 Good morning,
As Wiltshire Police seeks to enhance online services to the public we are pleased to introduce a new way of reporting crime through the Force website.
If you or somebody you know has been a victim of crime, or you witnessed a crime, in Wiltshire or Swindon you can now report it to Wiltshire Police online.
Go to the force website and click on the Report button and select Crime from the menu www.wiltshire.police.uk/
In an emergency always call 999.