Adult learn to cycle sessions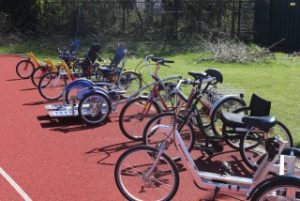 We are starting a free adults' learn to cycle course at the County Ground Athletics track on Saturday, 11 May. The bikes and equipment are free to use.
The flat track is a great place to learn to ride in a traffic-free environment helping you to build up your confidence on two wheels.
For further details contact Ben: bhumphrey@swindon.gov.uk
Network Rail engineering work
Network Rail will be replacing a bridge between Newbury and Kintbury between 4-6 May. As a result, the line between Newbury and Westbury will be closed.
A revised train service will run between London Paddington and the West of England, with services diverted through Swindon and replacement buses/coaches will run between Swindon and Pewsey.
Trains will continue to run between Reading and Newbury, but departure times may be different to normal.
For more informations see the GWR website.
Free parking
All Council-owned town centre car parks are free to use every Sunday. We hope you will take full advantage of the scheme to support our town centre.
A419 between A420 Junction to Commonhead Junction
Full overnight (8pm-6am) road closure of the south bound road. Tonight (26 Apr) and from Tue, 30 April – Thurs, 2 May.