Wellington Street almost complete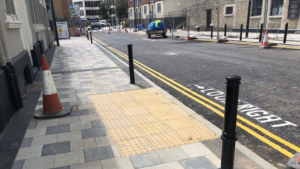 The major transformation of Wellington Street connecting the railway station to the town centre is almost complete and from lunchtime on Monday (10 June) will be open to traffic, cyclists and pedestrians. The newly installed toucan crossing will be in action and all temporary road signs and temporary traffic lights will be removed. Some of the improvements we've made are:
New, separate paths for cyclists and pedestrians
A new, raised road with contrasting surfacing and sharper road markings
A safer junction where Wellington Street meets Milford Street and Manchester Road, with ramps to slow down vehicles and bikes, and tactile paving around the kerb line
A new zebra crossing over Wellington Street and new toucan crossing over Milford Street
A smarter, more pleasant feel, with less clutter of street furniture
There will be a small amount of paving work to complete but the contractors will be off-site by next Friday (14 June).
For more take a look at the full E-Newsletter from Highways News.