Helping Hands Fundraiser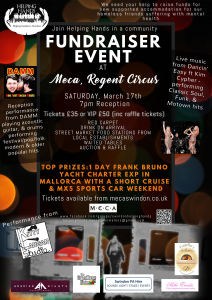 Helping Hands have a special evening planned for you with some fantastic entertainment including the Wonderful Kim Cypher, DAMM and Kitty Langan Studio with food from Arabian Nights Swindon, Fratello's, The Green House and more. They have a great guest list confirmed including Luke Watkins. Paddy Fitzpatrick and Rich Loveday which is shaping up to be a brilliant networking event!
The brilliant team have secured some fantastic prizes confirmed also – not forgetting our amazing Yacht holiday in Majorca and a chance to win a day's charter with the one and only Frank Bruno MBE, a sports car weekend and loads more!!!
Tickets/tables can be purchased from the Swindon Meca for £35/£350 or £50/£500 VIP – Tickets on sale now!!
The event would not have been possible without Swindon PA Hire, Niche-Events, Ultimate Occasions Hospitality Services 247 and many many more behind the scenes.
We have the fabulous Evie Em-jay and Jack Baverstock hosting the event.
This is Swindon's Helping Hands very first event and we want to make it a worthwhile night. They started this to get some people under a roof and in somewhere they can be safe and call home which meant they could access the help and support they need.
Lets never forget why we are paying this money – to support those vulnerable people who need caring for.
Get your glad rags on and lets make this a success, together as a community!
For more information on Helping Hands, check out their Facebook page and the inspiration for the charity.