Significant upgrades to Swindon's cycling and pedestrian routes have been completed, and loc Swindon Borough Council has for the past few years been delivering a series of cycle improvement schemes off the back of a successful funding bid to the Swindon and Wiltshire Local Enterprise Partnership.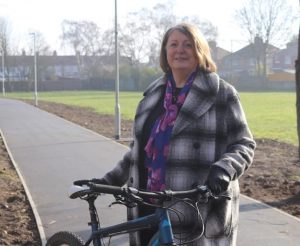 A total of £3.75 million was secured to deliver improvements to the town's network of pedestrian and cycle routes. And with the completion of the Plymouth Street to Spring Close route, a missing piece of the puzzle has been successfully added.
Councillor Maureen Penny, Swindon Borough Council's Cabinet Member for Highways and the Environment, said: "It is fantastic news that the scheme to upgrade and expand Swindon's cycling network has been completed.
"This marks a step change towards delivering a sustainable transport network that works for everyone and helps to promote healthy and active lifestyles.
"There is a large cycling community in Swindon and I am sure that the Flyer routes will enable the community to thrive and grow."
The £3.75m scheme has seen the successful delivery of key cycle and pedestrian links such as between Covingham Drive and Spring Gardens; the widening of pathways to enable shared use by cyclists and pedestrians; new lighting and CCTV on long, isolated stretches and the reconstruction of uneven and worn sections of key routes. There have also been upgrades to pieces of street furniture bearing the Flyer logos.
John Mortimer, Chairman of the Swindon & Wiltshire Local Enterprise Partnership, said: "Enabling a well-connected, reliable and resilient transport system to support economic and planned development growth is one of the investment priorities for the Swindon and Wiltshire Local Enterprise Partnership (SWLEP).
"The successful regeneration of Swindon's town centre and the development of key growth areas in the town are dependent upon new and improved sustainable transport links.
"Our investment of £3.75m to deliver these cycle improvement schemes will support the local Swindon Economy by reducing traffic congestion and improving access to education, skills, housing and employment sites."
There are now around seven miles of Flyer routes in Swindon and the Council is always looking for ways to promote healthy lifestyles and environmentally-friendly initiatives.
Local cycling groups have praised the completion of the scheme and have spoken about the many benefits it will bring.
Rob Derry, a member of Swindon Cycle Campaign, a group that actively promotes the benefits of cycling in Swindon, said: "It's great to see more cycling provision. The more of it we keep building, the more people will consider using their bikes instead of jumping in the car and adding to traffic congestion and pollution.
"The Flyers provide excellent traffic-free routes into the town centre and I would advise anyone to check them out and see how easy it is to get into town on a bike – you don't have to sit in your car complaining about traffic, there is an alternative."
The Swindon and Wiltshire Local Enterprise Partnership's Local Growth Fund has been instrumental in enabling the programme of works to go ahead and has also provided significant funding for other highway schemes such as the Quality Bus Corridor between Wichelstowe and the town centre.
Minister for Local Growth, Jake Berry MP, said: "This Government is committed to boosting economic growth across the whole of the UK and building a Britain fit for the future.
"£3.75 million investment from the Local Growth Fund has enabled a series of sustainable transport infrastructure schemes that will support the economy of Swindon by reducing traffic congestion and carbon emissions, improve access to education, skills, housing and employment sites and facilitate economic development." al cyclists are delighted.