You can see the full newsletter here.
Dear residents,
The past few months have been a challenge for all of us but I'm incredibly proud of how the community across Swindon has rallied round to support one another.
This newsletter can help you find out more about the important announcements made by the Government this week on the further easing of lockdown restrictions.
It's important we all understand and follow the latest guidance, so that we continue to keep each other safe and limit the risk posed by COVID-19.
The Council is carefully reviewing this information, to plan how and when we can re-start, extend or deliver services in a different way that is safe for you and our staff.
As we all adapt to the situation, we will of course keep you updated.
From Saturday, 4 July 2020:
Where it is not possible to stay two metres apart, guidance will allow people to keep a social distance of 'one metre plus'. This means staying one metre apart, plus mitigations which reduce the risk of transmission
Two households of any size will be able to meet up in any setting with social distancing measures
Pubs, restaurants and hairdressers will be able to reopen
You can stay overnight in self-contained accommodation, including hotels and bed & breakfasts, as well as campsites
Outdoor gyms and playgrounds, cinemas, museums, galleries, theme parks and arcades as well as libraries, social clubs and community centres can reopen if they can do so safely
Venues such as nightclubs, soft-play areas, indoor gyms, swimming pools, bowling alleys, water parks and spas will remain closed
Find out more about what you can and can't do until the 4 July.
Coronavirus: Guidance for the clinically extremely vulnerable
Those classed as extremely vulnerable who have been told to shield should continue until Monday, 6 July 2020.
After 6 July, you can gather outdoors in groups of up to six people from different households whilst maintaining social distancing
You no longer need to social distance from other members of your household
If you live alone, you can form a 'support bubble' with one other household
From Saturday, 1 August 2020 shielding will be replaced by social distancing.
Here for Swindon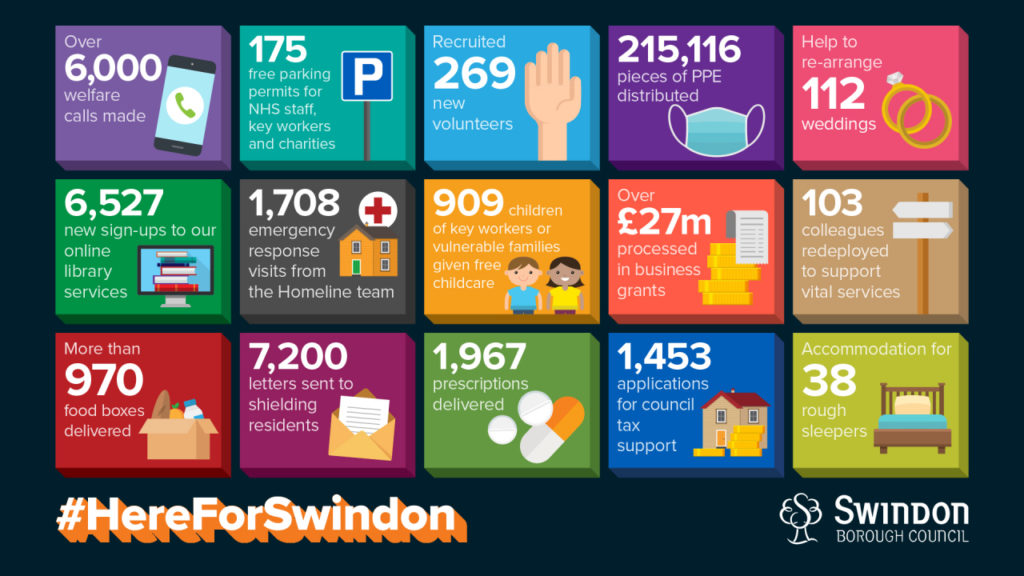 A lot has changed recently. From the places we're able to visit to the people we're able to see. What hasn't changed though, is the incredible support you continue to show to the people in your community.
We know that the road ahead is uncertain and you might be feeling a little anxious, but we, along with the emergency services, our partner agencies and charities are here for you whenever you need us.
Here are just a few examples of the ways we've been HereForSwindon.
Next week Cabinet are due to decide whether to roll out a food waste recycling service across the entire borough following the successful trial.
Love Food, Hate Waste
In our waste strategy consultation over 70% of respondents said they would use a food waste recycling service if it was offered to them. If agreed, food waste collections could be extended to all 97,000 households in Swindon, in the future.
You can visit Love Food Hate Waste for help reducing your food waste.
Household Waste Recycling Centre
The Household Waste Recycling Centre(HWRC) is open, with a reduced capacity, for pre-booked visits only. This is to ensure we can maintain the safety of residents, staff and other site users and operate within the social distancing guidelines.
Please note if you attend the site without a booking you will be turned away and asked to return once you have a confirmed booking.
Get more information on the HWRC or book a slot here.
Thank you to Morrisons
Thank you to Morrison's Haydon Wick, for kindly donating food to Fessey House care home. Your continued support is really appreciated by our staff and residents.
Visiting shops in Swindon
As lockdown restrictions ease, more retailers have begun to reopen their doors. The Government has advised that non-essential retailers can reopen, as long as they make sure customers and staff are able to follow social distancing and public safety measures. If you are planning to visit the town centre or other shopping areas, you might find this key information helpful.
Garden waste
Are you gardening more than usual? Why not subscribe to our garden waste collections. Our team will collect your garden waste straight from your home. No contact. No hassle.
Other news
More sources of information
Help for vulnerable residents to access food parcels and prescriptions
Latest status of all council services
How the Council is supporting residents and businesses
How you can support your community
See our daily report of waste and recycling collections
Pre-book a slot at the Household Waste Recycling Centre
Book a coronavirus test if you or someone in your household has symptoms