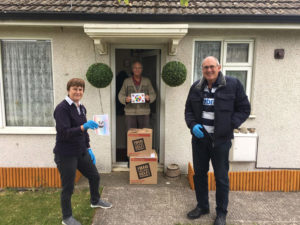 Councillors in Swindon have been giving up their time to deliver food supplies to vulnerable people in the borough.
Members of Swindon Borough Council, from different political parties, have been out and about delivering boxes of essential supplies to those who can't get out to do their own shopping.
Since the country went into lockdown, council staff and volunteers have been working hard to make sure vulnerable people are supported during this difficult time, and more than 820 food parcels have already been delivered to those in need.
The food boxes will be available for as long as they are needed.
Councillor Mary Martin, Conservative Cabinet Member for Children's Services and ward member for Shaw, was joined by her husband and fellow Shaw ward member Cllr Nick Martin as she took parcels to vulnerable residents.
Cllr Mary Martin said: "This pandemic has presented the Council will some big challenges and I am pleased to see staff and volunteers coming together to meet them.
"It's a privilege to have been able to help the food delivery team and to ensure those who need essential supplies are able to receive them."
Cllr Claire Crilly, Labour member for Penhill and Upper Stratton, also hit the streets to deliver supplies to those in need, as did Cllr Brian Ford, Cabinet Member for Adults and Health and ward member for Wroughton.
Cllr Crilly said: "It was wonderful to see how hard Council staff and volunteers have been working and I wanted to help out to say 'thank you'. Some people in our community have been unable to get out to do their shopping and I am delighted by how many volunteers have come forward to offer support."
Cllr Ford said: "It was a pleasure to be able to do my bit for some of our more vulnerable residents. Ensuring people are properly supported during this difficult time is this council's main priority and I would like to issue a personal 'thank you' to everybody who has made that happen."
Cllr Fay Howard, Labour member for Liden, Eldene and Park South, and who also took part in the Council's volunteer scheme, said: "It has been a pleasure to support residents living in a sheltered housing scheme with shopping and prescription collecting.
"I and other neighbours also helped with their VE day celebrations, all socially distanced of course. It was lovely to share in that with them."
Since the coronavirus pandemic hit the UK, Swindon Borough Council has been on the frontline helping residents and businesses.
The Council launched a campaign called #HereForSwindon which provided support for both residents and businesses. This included, among other things, the issuing of business support grants and making essential changes to parking rules to help residents who are working from home.
Further details about the #HereForSwindon measures can be found at: www.swindon.gov.uk/HereForSwindon.