Enjoy Plenty Of Sparkle This Christmas at STEAM
Come along to our magical weekend event and follow our Festive Trail as you enjoy all the attractions at STEAM over the Christmas and New Year period.
New for this year, we are open on New Year's Day! Check our opening times in this newsletter.
Three fabulous exhibitions await as we celebrate how ingenious the GWR were with their advertising, publicity materials and merchandise.
It's the perfect time to get up close to famous steams locomotives as you enjoy the extra magic of Christmas at the museum.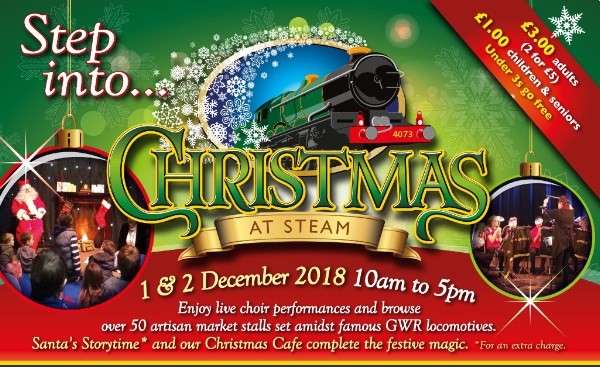 Browse over 50 artisan market stalls and experience live choir music as well as STEAM's story-telling displays and exhibits on 1 & 2 December 2018.
See our special festive prices: 
£1 child (15 years and under)
£1 adult 65+
£3 Adult (or £5 for two adults)
Under 3s go free!
Buy tickets online or on the door.
Children will absolutely love Santa's story-time. It takes place in a quite area of the museum with a decorated fireside setting.
Cost:
£5 per child – In addition to the above admission prices.
(Includes a themed story, sing-a-long and wrapped gift)
Please book in advance as shown below.
Saturday and Sunday:
10.15am, 11.00am, 11.45am, 13.00pm, 13.45pm, 14.30pm, 15.15pm, 16.00pm.
To find out more and to buy tickets for this event, please click here.
Get Up Close This Christmas
Take time over the festive period to enjoy our GWR story-telling displays, special exhibitions and the many famous GWR engines we have here, including our new addition, GWR No. 2818. Please see our festive period opening times below.
Monday, 24 – Wednesday, 26 December – Closed
Thursday, 27 – Saturday, 29 December 10am – 5pm
Sunday, 30 December 11am – 4pm
Monday, 31 December 10am – 5pm
Tuesday, 1 January* 2019 11am – 4pm
Wednesday, 2 – Saturday, 5 January 2019 10am – 5pm
Sunday, 6 January 2018 11am – 4pm
*Hurray, we're open on New Year's Day!
Superb STEAM Calendar And Christmas Gift ideas

Superb STEAM Calendar and Christmas Gift Ideas
Our exclusive STEAM calendar includes 11 stunning images of steam locomotives in action on the former GWR line plus one vintage image taken at a recent Timeline Event at STEAM. All images by Richard Bell. Limited edition.
Cost:
£7.50 in clear packaging from the STEAM Shop inside the Museum or at the STEAM Shop Online.
For more great Christmas gift ideas, call in to the STEAM Shop or buy exclusive and limited edition STEAM items online at the STEAM Shop Online.
10% off STEAM Picture Library Gifts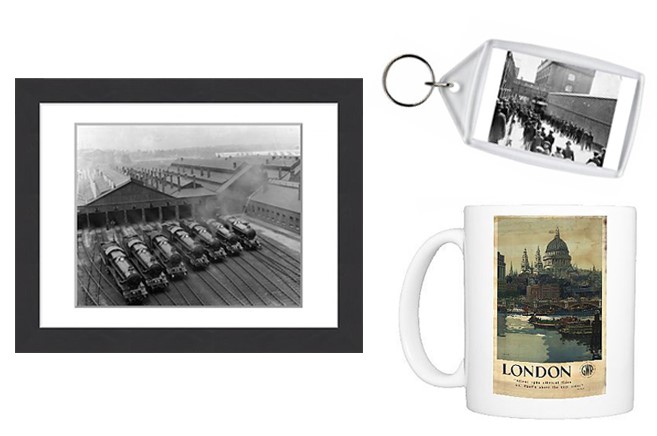 Create a bespoke gift using images from the amazing www.steampicturegifts.com library and turn your favourite images into prints, mugs, mouse mats, jigsaws, and more!
Use code christmas2018 to get 10% off all prints and gifts.
Browse over 1500 fabulous GWR images at: www.steampicturegifts.com library and enter the above code when you check out. Offer ends 25th December 2018.