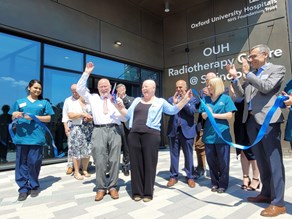 Brighter Futures were invited to a small ribbon cutting ceremony at the new OUH Radiotherapy Centre at Swindon!
We are now counting down the days until it opens later this Summer!
We are so grateful to everyone who shared their stories of having to travel to Oxford and to all of you who supported the fundraising in the most incredible way. Our local community is amazing, and we are so proud of the part that you have played in bringing Radiotherapy Services closer to home for patients diagnosed at Great Western Hospital.