Highways England are planning improvements to the M4 J15, along with the A419/A346. These will be major works so long delays are to be expected.  This will also consist of the closure of DayHouse Lane whilst the bridge over the A419 is rebuilt and a proposed no right hand turn into Badbury from the A346.
We will publish more information as we receive it.
Letter from Highways England
12/03/2020
Highways England operates, maintains and improves England's motorways and major A roads. I am writing to let you know we will shortly be carrying out works in this area.
The works
As part of our commitment ot improve traffic flow in this area, we plan to improve capacity on the A419 by adding a dedicated left turn lane onto the M4 J15. To enable these works we need to carry out vegetation clearance ahead of bird nesting season. We anticipate these works will take 3 weeks to complete and will take place on the verge, no traffic management will be needed but there may be some noise. Please accept our apologies in advance for any inconvenience this may cause.
Date: 16 March to 3 April 2020
Hours of work: work will take place week days only between the hours of
We always aim to work to the programme, however unforseen circumstances or adverse weather conditions may mean changes to it. We will keep you informed via advance roadside warning signs. We will make every effort to ensure the impact on the local community is kept to a minimum.
If you have any queries or comments about the work, or would like further information please contact Highways England Customer Contact Centre on 0300 123 5000 (open 24/7) or email: info@highwaysengland.co.uk
Yours faithfully
Andrea McAllister I Stakeholder Manager I Highways England
SBC Update 8.6.2020
10/06/2020
Regarding the alternative night-time diversion route set you outlined via The Ridgeway / B4192 /  Purley Road / Commonhead – we have discussed and have an agreement in principle with Highways England on using this route as requested, instead of the route via New road and Chiseldon. (This is subject to final confirmation from Forest, the appointed traffic management company).
Re-instating the banned right turn into Badbury from Marlborough Rd is also acceptable in principle to Highways England. However, this location was planned to be used to U-turn HGVs who may have missed the diversion. As the full carriageway width is required at this location to perform the manoeuvre, any extension to the centre island would impede the ability to turn HGVs here. HE are currently in discussion with Forest for alternative location for turning HGVs (possibly at the junction with The Ridgeway). Pending resolution on this point, the proposal to ban north bound right turns from Marlborough Road into Badbury would be reinstated as requested.
The issue of provision of temporary passing bays on the north-south single carriageway width road between the village and The Ridgeway, which passes the nursing home, was also discussed with Highways England. The outcome was, that for a variety of reasons, this is not something that Highways England would currently be minded to do.However, it could be investigated further and potentially implemented as minor works by SBC as Local Highway Authority, (pending the outcome of discussions between HE and Forest on the right turn issue).
Works will not to start in Jan 2020
07/01/2020
Highways England have confirm the work won't start in January 2020, further information and a new start date will follow when we receive it.
Notification of Road Closures: M4 Junctions 12 (Theale, West Berkshire) to 15 (Swindon, Wiltshire) – Resurfacing
05/05/2020
Notice of temporary road closure and speed restriction - A346 Marlborough Road, Chiseldon, Swindon
02/06/2020
This Order is being introduced to allow Highways England to carry out works for the M4 Junction 15 improvement scheme and a dedicated lane from the A419 South Bound on to the M4 East Bound.  The Order will prohibit vehicles from proceeding on the A346 Marlborough Road both north and southbound from its junction with B4005 New Road to its junction with the M4 Junction 15 Badbury Roundabout and the section of Day House Lane 300 metres at each side of the bridge going under the A419. A 30mph speed limit is to be imposed on the approach/exit lanes including the circulatory carriageway of Badbury Roundabout.
For the A346 Marlborough Road closure traffic will be diverted via B4005 (New Road (Chiseldon), Hodson Road, Brimble Hill, Marlborough Road, Devizes Road, High Street, Wharf Road and Hay Lane (Wroughton) to Junction 16, A3102 Great Western Way, B4006 Great Western Way, B4289 Great Western Way to Transfer Bridges, A4313 Ocotal Way, A4312 Drakes Way and A4259 Queens Drive and Marlborough Road to Commonhead Roundabout  Motorway traffic will be advised to use Junction 16 to enter or exit.  HGV/LGV traffic will be diverted to follow the A4, A350 and A338.
For the Day House Lane closure traffic will be diverted via A4259 Marlborough Road, B4192 Purley Road (Liddington), and Medbourne Lane.
The Order will come into force on the 15 June 2020 for 18 months but it is anticipated the road closures will only be in force overnight during the hours of 8pm and 6am as and when required as advised by Highways England.
Highways and Transport Services
20 May 2020
For further information please contact 01793 463040 quoting reference STR000070
Works not expect to start until 2020
11/10/2019
Highways England have confirmed that they don't expect works to start until 2020. We will contact them in a few weeks' time for a further update.
Closure of Hodson Bridge over M4
20/05/2020
Please note that Hodson Bridge over the M4 will be closed from 7pm to 6pm on the 1st – 4th June. Please view or download the Highways England letter for further details.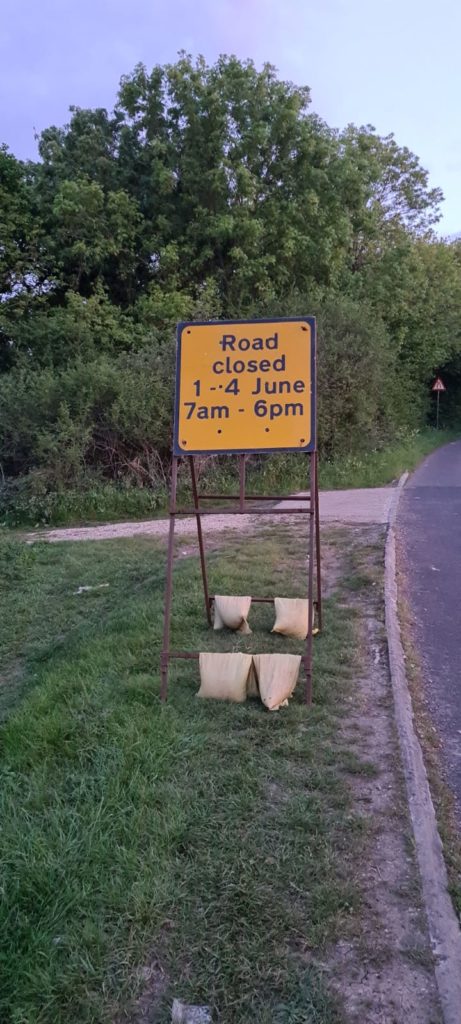 Diagrams of Changes to Junction 15
17/06/2020
Please note that these diagrams were the last received from WSP and are from Feb 2020.
Further re-designing is taking place
17/02/2020
Further designing/re-designing of the scheme is still taking place & a construction program is being created. A further update (when this phase is concluded) is expected in April.
M4 Junctions 12 (Theale, West Berkshire) to 15 (Swindon, Wiltshire) – Weekend Closures
24/06/2020
Further to my letter in May, I wanted to advise that resurfacing work along the M4 between junctions 12 and 15 is ongoing and progressing well.
In July we have the first of our weekend closures along the M4. These are required as some sections of resurfacing will replace all layers down to the foundations. To allow time for the materials to harden, we will undertake this work whilst closing the M4 over entire weekend periods.
The first weekend closure is scheduled to take place from 9pm on Friday 3 July through to 6am on Monday 6 July 2020, and will be a closure of the M4 westbound carriageway between junction 13 and junction 14.
Further weekend closures have been scheduled for the following dates, but are subject to change:
Friday 4 to Monday 7 September – M4 westbound between junction 13 and junction 14
Friday 11 to Monday 14 September – M4 eastbound between junction 15 and junction 14
Friday 2 to Monday 5 October – M4 eastbound between junction 13 and junction 12
Significant delays are expected during these weekend closures. We advise you to plan your journey and allow extra time or avoid this route if possible.
Please be aware that due to the current Covid-19 Pandemic, all our works are subject to change due to available resource by our Supply Chain, as well as possible adverse weather conditions – confirmed dates/timings for all closures will be displayed in advance on large yellow signs alongside the M4.
We would like to apologise in advance for any inconvenience or disruption during our work. If you have any questions, or if you'd like you know more about our work please email us at info@highwaysengland.co.uk or call us on 0300 123 5000.
Alternatively, to view our weekly report of full closures please visit https://highwaysengland.co.uk/roads, scroll down and under Roadworks click on 'Check for Roadworks', then scroll down and under Planned full closures click on 'Check for Roadworks' (this will open a Microsoft Excel file that will allow you to filter by day and road).
Kathryn Blofield
Communications Coordinator
Work delayed until June 2020
25/02/2020
Work is not expected to start until June 2020 now.