As current advice is still to work from home if possible, the Parish Council office remains closed. You can use our contact form to get in touch, or email clerk@chiseldon-pc.gov.uk. All of our meetings are being held remotely via Zoom/Microsoft Teams. Members of the public are welcome to join. Please ask for the login details.
Help During Lockdown
If you need help during lockdown you can:
call 07570 167455 (not manned 24/7 but messages will be checked and replied to)
These details are for assistance and we will try to arrange a volunteer to help you. This could be, for example, with shopping, collecting prescriptions or if you need a dog walked and can't leave the house. Please share these details with anyone unable to access the website.
We are always looking for new volunteers – please email Nina if you can help us. We will contact our existing volunteer list from the last lockdown so please update us if you can no longer help.
Thanks and lets stick together and help everyone through this.
Everyone over 18 is now being invited to get the vaccine
21/06/2021
You probably know by now that around one in three people who have COVID-19 have no symptoms. That's why getting tested regularly is the only way to help stop the virus spreading.
You should do a rapid test twice a week (every 3 to 4 days) to check if you have the virus. If you test positive and self-isolate, it will help protect others from becoming infected.
This is even more important considering the Delta variant now accounts for over 90 per cent of cases across the country. We know this variant spreads more easily, and there's evidence that the risk of hospitalisation is higher than for the previously dominant Alpha variant.
If you have no symptoms:
If you have coronavirus symptoms:
On Monday (14 June), the Government announced that there will be a four-week pause at Step 3 of the roadmap out of lockdown. So Step 3 restrictions remain in place, as they have done since 17 May, and you should continue to follow the guidance on what you can and cannot do. There will be a review of the data after two weeks.
As of today (18 June) NHS England has extended the offer of a vaccine to everyone over the age of 18. Once vaccinated you are far less likely to get COVID-19 with symptoms and are even more unlikely to get serious COVID-19, to be admitted to hospital, or to die from the virus.
Two doses of the COVID-19 vaccines are highly effective against hospitalisation from the Delta variant. Please take up your first and second jab when called to do so.
If you have a question about the vaccine rollout in Swindon, this information may help.
Read the full E-Newsletter here: https://preview.mailerlite.com/s8h5u0/1711017068708500970/r5t6/
Step 4 of the roadmap delayed for four weeks
16/06/2021
Yesterday (15 June), the Prime Minister announced that there will be a four-week pause at Step 3 of the roadmap out of lockdown. This means that Step 3 restrictions remain in place, as they have done since 17 May, and you should continue to follow the guidance on what you can and cannot do.
It is expected that England will move to Step 4 on 19 July, though the data will be reviewed after two weeks in case the risks have reduced. The move to Step 4 will be confirmed one week in advance.
As Step 3 guidance remains, you can continue to socialise indoors in a group of up to six people or two households, including for overnight stays. Up to 30 people can meet outside. Pubs, theatres and other venues can open indoors. Hotels, hostels and B&Bs can open for people on holiday.
However, some restrictions changed yesterday. From 21 June, there were changes to the rules on:
weddings and civil partnership ceremonies and wedding receptions or civil partnership celebrations
commemorative events following a death such as a wake, stone setting or ash scattering
large events pilots
care home visits
domestic residential visits for children
You can read these changes and the latest guidance here.
For more information, including what you need to know about travelling internationally, visit the Government's website.
Read the full E-Newsletter here: https://preview.mailerlite.com/f3q5g2/1708617245195769220/z3d4/
COVID-19 vaccines are highly effective against the Delta variant
15/06/2021
The Prime Minister is expected to announce next Monday (14 June) – based on the latest review of the evidence – whether or not further easing of COVID-19 lockdown restrictions (Step 4) can take place in England on 21 June.
The Government's decision will be based on four tests:
The vaccine deployment programme continues successfully
Evidence shows vaccines are sufficiently effective in reducing hospitalisations and deaths in those vaccinated
Infection rates do not risk a surge in hospitalisations which would put unsustainable pressure on the NHS
Its assessment of the risks is not fundamentally changed by new variants of COVID-19
The latest UK-wide data shows that cases of the Delta variant in England have risen by 29,892 since last week to 42,323. This includes 57 cases in Swindon since the variant was identified in April, although the current risk to the wider community is low.
New research suggests that the Delta variant is associated with an increased risk of household transmission compared to the Alpha variant (first identified in Kent).
With the Delta variant now accounting for the overwhelming majority of new cases in the UK, Public Health England comment that "it is encouraging to see that the increase in cases is not yet accompanied by a similarly large increase in hospitalisations."
Two doses of the COVID-19 vaccines are highly effective against the Delta variant. Once vaccinated, you are:
unlikely to get serious COVID-19, to be admitted to hospital, or to die from it
there is growing evidence that vaccinated people are less likely to pass the virus to others
It's up to all of us not to jeopardise the gains we've made. Please keep following the guidance and playing your part.
Read the full E-Newsletter here: https://preview.mailerlite.com/d0q9t5/1705951227931530279/k4g0/
A new COVID vaccine & travel advice from Swindon's Director of Public Health
10/06/2021

New evidence shows for the first time that two doses of the COVID-19 vaccines are highly effective against the B1.617.2 variant first identified in India.
That is clearly positive news given the evidence suggests that this variant passes on more easily from person to person than the B.117 variant, first discovered in Kent. As of sending the newsletter (28 May), we have a small number of cases of the B1.617.2 variant in Swindon, however current risk to the wider community is low. But that may change at any time. We continue to monitor the situation closely working with Public Health England.
It reinforces why it's so important to get both doses of a COVID-19 vaccine when you are invited and have the opportunity to do so. If you're aged 30 or over, or if you turn 30 before 1 July 2021, you can now book your COVID-19 vaccine.
Please check this information if you have any questions about the vaccination programme in Swindon.
If you're travelling out of the area this bank holiday weekend and mixing with others outside of your household or support bubble, please make sure you're clear on the rules and try to:
Meet outside rather than inside where possible
Try to keep two metres apart from people that you don't live with (unless you have formed a support bubble with them), this includes friends and family you don't live with
Get tested twice a week for free and isolate if you are positive
If you experience COVID-19 symptoms book a test and isolate, and make sure your close contacts also isolate
Continue to work from home if you can
Get vaccinated when you are offered it, and encourage others to do so as well
It's up to all of us to do everything we can to prevent the case rate threatening our progress. Depending on what the latest evidence shows, the Prime Minister is due to provide an update on 14 June as to whether or not England can progress to Stage 4 of the roadmap from 21 June, at the earliest.
Read the full E-Newsletter here: https://preview.mailerlite.com/v2j7r8/1695762710462993574/l8e0/
The vaccine bus
10/06/2021
The vaccine bus was last in Swindon at the Orbital on the 4th June. It is currently in Bath, North East Somerset and Wiltshire for the next few weeks. Exact details of when it will be back are still being planned. We will add a new post when we have updated details
On our guard for COVID-19 variants
24/05/2021
This is exactly the time that across Swindon we need to be on our guard with the further easing of COVID-19 lockdown restrictions this week. As people mix and resume those activities now permitted by the rules, the risk of infection increases.
Remember coronavirus restrictions still remain in place across the country, including for everyone who has been vaccinated. If there's one thing we have learnt in this pandemic, it's that the situation can change quickly. We can make progress climbing a ladder, only to see that quickly slip away as we slide down a snake.
As of 19 May, across the UK there were 3,424 cases of the B1.617.2 variant first identified in India. Cases are still predominantly affecting the North West of England – particularly Bolton – and London, but we are seeing clusters of cases across the country. At the time of sending this newsletter (21 May), we don't currently have any cases of the B1.617.2 variant in Swindon to be concerned about. But that may change at any time and we continue to monitor the situation closely, working with Public Health England.
The Government has said that the early evidence suggests that the B1.617.2 variant passes on more easily from person to person than the B.117 variant, first discovered in Kent. But the Government has increasing confidence that the vaccines are effective against it – which is why it's so important that everyone comes forward to get the vaccine when they're invited to.
Given the increased risk of transmitting COVID-19, we need to take particular caution when meeting anyone outside our household or support bubble. This will keep yourself and others safe. In particular, wherever possible, you should try to:
Meet outside rather than inside
Keep two metres apart from people that you don't live with (unless you have formed a support bubble with them), this includes friends and family you don't live with
Get tested twice a week for free
Continue to work from home if you can
Get vaccinated when you are offered it, and encourage others to do so as well
Swindon: it's up to all of us.
A new COVID vaccine bus is touring Swindon
23/04/2021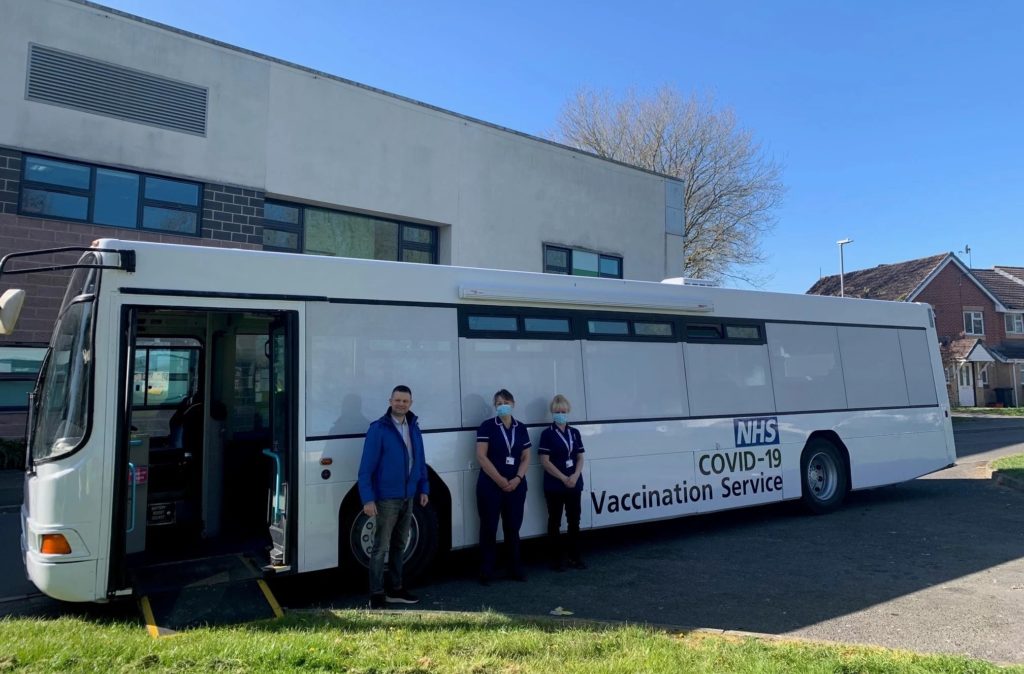 As of today (23 April) the COVID-19 case rate in Swindon has increased to 30 per 100,000 compared to the England average of 24 per 100,000.
Swindon's first mobile vaccination clinic – a specially adapted bus – took to the road this week. This will be an invaluable tool that will allow us to target areas with lower vaccination uptake.
It is never too late to change your mind if you have previously declined vaccination, and this new mobile clinic will be a huge boost in our efforts to protect those communities who, up until now, have been unsure of whether to have the vaccine. Details of when and where the mobile vaccination clinic will be located will be advertised to specific communities through ongoing outreach work happening with community leaders, faith groups and public health workers.
Over 107,000 Swindon residents have now received at least one dose of the COVID-19 vaccination, which is good news. It is still a Government target to vaccinate all those over the age of 18 by the end of July 2021. Recent analysis shows that the UK's COVID-19 vaccination programme has so far prevented thousands of deaths in those aged 60 and above.
If you are planning to vote in the forthcoming local elections on 6 May, you may find these questions and answers helpful which includes steps being taken to make polling stations COVID-safe.
Twice-weekly testing is now available to everyone
19/04/2021
Anyone in England who is not displaying COVID-19 symptoms can now access free, regular, testing. One in three people who have COVID-19 do not display any symptoms and could be spreading the virus without knowing it. Regular testing will be an essential part of the easing of restrictions and will help to identify new cases of COVID-19 in Swindon and protect others from being infected.
In Swindon, residents will be able to access regular testing through a number of routes depending on individual circumstances. These routes include:
Workplace testing programmes (both on-site or at home): if their employer offers workplace testing, this remains the best route for residents to access regular testing.
Home ordering service: residents can order a box of tests from gov.uk or through 119, which will be delivered to their home.
Pharmacy collect: a number of pharmacies across Swindon have signed up to offer pharmacy collect. Residents can use the NHS site finder to find out which local pharmacies they can pick up tests from.
Education: secondary and college students are already being given tests to use at home twice a week, throughout term time and during the holidays.
Symptom-free testing sites: we have a number of symptom-free testing sites in Swindon which residents are able to use. Residents can choose to either book an assisted test at one of our sites (this is recommended if it is their first time testing), or they can walk-in and collect home testing kits, subject to availability.
Wherever possible, please encourage residents to make use of this testing offer. More information about the different testing routes available can be found on the NHS website.
Here's everything you need to know about the changes to lockdown on 29 March
29/03/2021
From 00:01am on Monday, 29 March the current restrictions will be slightly eased as we reach the next stage of the Government's roadmap out of lockdown.
Taking this next step will allow for a limited amount of mixing outdoors (including in private gardens) with either an additional household or in a group of up to six people. These new guidelines are a maximum, not a target. Outdoor sports facilities such as tennis and basketball courts can also reopen, allowing for formally organised outdoor sports to resume.
We know that it is safest to meet people outside in the fresh air. If you do meet others who you do not live with, it's important that you follow the 'Hands. Face. Space' guidance – whether you've had the vaccine or not. You should also minimise travel, continue working from home if you can and must book a test if you have symptoms of COVID-19.
On 1 April, residents who are classed as Clinically Extremely Vulnerable will be able to stop shielding. The decision to pause shielding has been taken based on the latest scientific data. A copy of the letter issued by the Government can be viewed here.
We understand that you have been separated from the ones you love for a long time, so being able to meet with friends and family again will be a welcome relief. But we must keep following the guidelines so that we take this next step safely and ensure we don't undo all of our hard work.
Swindon: it's up to all of us to make this lockdown our last.
Latest COVID-19 case rate data
From 16-22 March, there were 167 new COVID-19 cases in Swindon, up from 146 between 9-15 March.
From 16-22 March, our case rate was 75 per 100k. The South West average was 29 per 100k and 57 per 100k for England.
If you're eligible, book your vaccine now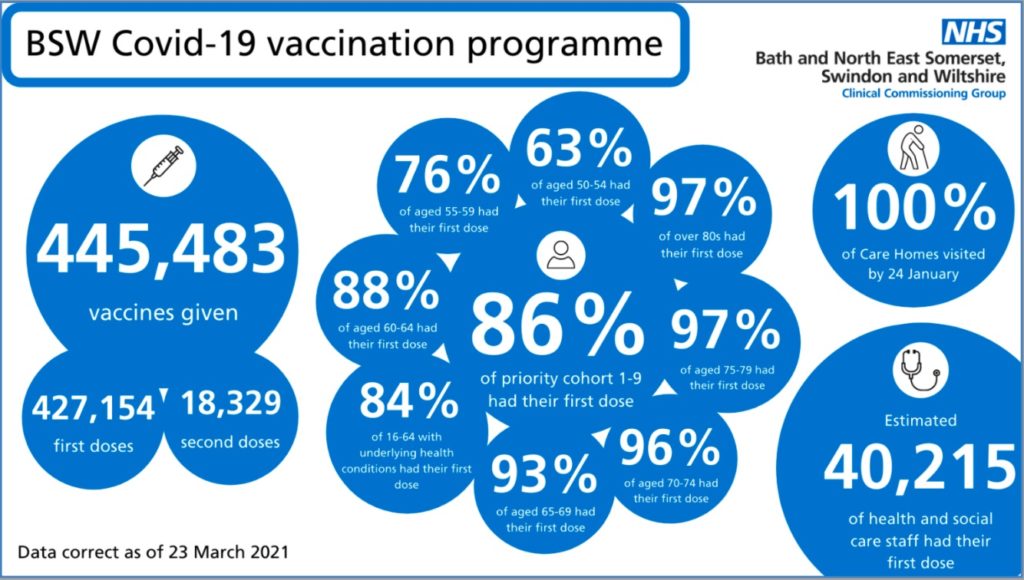 Nearly half a million vaccines have been administered across Bath and North East Somerset, Swindon and Wiltshire.
If you're over 50, have a health condition that puts you at greater risk, or are a health or social care worker and you haven't booked your first dose, book it now or call 119.
Home testing is now available at our symptom-free testing sites
You can now collect home testing kits from our symptom-free testing sites to test your household, childcare bubble or support bubble if at least one member:
is a school, nursery or college pupil
works in a school, nursery or college (this includes temporary workers and volunteers)
works in an occupation related to a school, nursery or college
Please check the opening hours of the site you wish to attend before making the journey. If you are collecting home testing kits you do not need to book an appointment, simply turn up during opening hours.
If you meet the above eligibility criteria, you can also collect home testing kits from the symptomatic testing sites at Broadgreen Community Centre and Wroughton Park and Ride, or you can order a test online.
If it is your first time doing a test, we advise that you complete a test on site with the assistance of testing staff, so that you feel confident carrying out tests independently at home in the future. Eligible households are encouraged to take home tests twice a week. Find out more about home testing.
Unable to work from home? Book a symptom-free test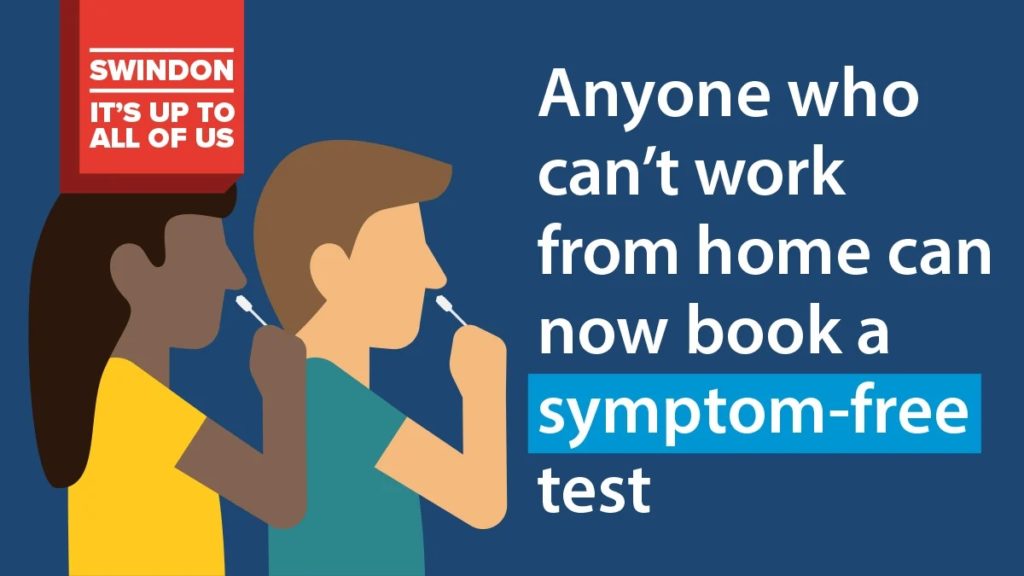 Protect the ones you love most. If your job requires you to leave home, please get tested regularly to help stop the spread of COVID-19.
One in three people who have coronavirus do not display any symptoms, so you could be passing on the virus without even knowing it.
Book a symptom-free test and receive your results back within two hours.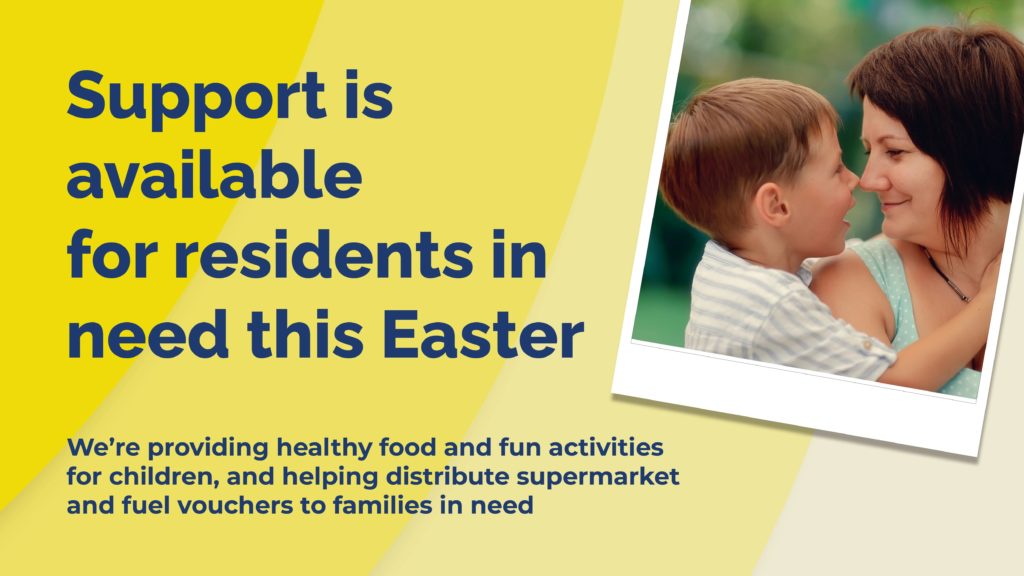 Over 4,500 children who receive means tested free school meals will be eligible for the Holiday Activities and Food programme this Easter, which helps provide access to fun activities and healthy food to children during the school holidays.
More information on the scheme and how to apply can be found on our website.
Five things you need to know
NHS message for parish councils
11/03/2021
The CCG is aware that many residents in Swindon who are currently eligible for a coronavirus vaccine have received an invitation to book an appointment at a large vaccination site in either Salisbury, Bath or Oxford.
We know that, for some people, travelling is not an issue, but many will find it difficult.
We'd be very grateful if you could share the below message, which provides reassurance vaccines will be available locally, in any publications or social media channels you currently have.
If you have any questions, please let me know.
Gill May, Director of Nursing and Quality, Bath and North East Somerset, Swindon and Wiltshire Clinical Commissioning Group, said:
"The vaccination rollout in Swindon has happened at tremendous speed and we have vaccinated significant amounts of those in the priority groups so far. Patients are being invited by their GP to clinics at the Steam Museum and Great Western Hospital, and the National Booking Service is now sending invitation letters to the over 60s to get booked in for their jab.
"We are aware that some people being invited by the National Booking Service will only be offered appointments at the pharmacy sites in Lawn and Highworth, or the large vaccination sites that are located out of town.
"We know that for many people, who are willing and able to travel, the distance to these locations is not a problem. However, we are also extremely aware that for others it is harder to travel.
"As we learn from experience and move through the groups being called for vaccination, we are working hard to plan for future capacity in and around Swindon.
"We would like to reassure everyone in the current priority groups that their GP practice knows many patients will prefer to be vaccinated locally, and practices are already in the process of contacting patients with details of how to book a local appointment. Any person not yet contacted will hear from their practice in the coming days.
"We appreciate how anxious some people are but would urge everyone to try and be patient, the NHS will get to everyone in due course."
Easing of lockdown restrictions from 8 March 2021
08/03/2021
COVID-19: Stick to the rules to stop the spread
27/01/2021

Please follow the link to the Swindon Borough council Covid-19 update.
This includes updates from Steve Maddern, Director of Public Health and recent Swindon Covid-19 statistics.
Useful links if you need financial support
27/01/2021
This page on the SBC website has some useful links if you need financial support at the moment, including:
Financial help if your income has been affected
Test & Trace payment if you have to self-isolate
Warm and Safe Wiltshire – help with energy bills
We have a Food Waste Hero in Chiseldon!
27/01/2021
I've been made aware of a scheme where shops provide their food that is shortly going out of date but fine to eat to local "Food Waste Heros" who can then distribute in their local community.
We have a lady called Nicki who lives in Chiseldon who is one such hero and is happy for people to contact her on WhatsApp if they need any food supplies during these tough times.
Nicki will be holding weekly free food collections from her house, and you can access this service in complete confidence.
You would need to contact Nicki on 07487 305675 via text (she gave me permission to add her number on here) and she can help. She will add you to a WhatsApp group listing what is available and you can contact her to make a request. I'd suggest texting Nicki anyway even if you don't have WhatsApp.
(Please note this isn't a Parish Council-backed scheme and we take no responsibility for you using this scheme. We are the mechanism for proving the information). Please ensure you are happy to share your number before joining up to this scheme.
Mrs Clair Wilkinson
Parish Clerk and Responsible Financial Officer
Questions about coronavirus and housing rights?
25/01/2021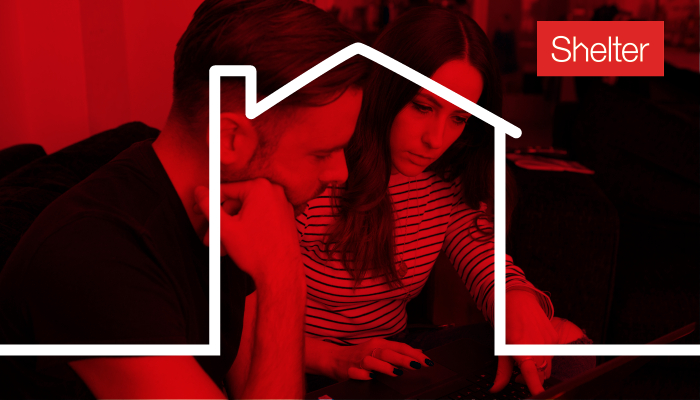 Shelter helps millions of people every year struggling with bad housing or homelessness through our advice, support and legal services. And we campaign to make sure that, one day, no one will have to turn to us for help.
We've seen a big increase in demand for our services since the coronavirus pandemic began. We're here with the latest information and advice for people whose housing has been impacted by COVID-19, such as people who've accrued rent arrears due to losing their jobs, or are threatened with illegal evictions.
Signpost clients with housing problems to Shelter's free online housing advice for:
reliable and updated information
step by step advice guides
access to a webchat adviser
an emailed copy of the chat
Visit shelter.org.uk/covid19 or search 'Shelter housing advice'.
For people in urgent housing need (if they're homeless or likely to be homeless within 8 weeks; or are at risk of harm), please signpost them to our emergency helpline at shelter.org.uk/get_help.
For an overview of which Shelter services to signpost to when, please dowload our Signposting PDF guide.
Ramsbury and Wanborough Surgery
21/01/2021
A message from Ramsbury and Wanborough Surgery:
So this week, we will be starting to contact our "75 years old and over" patients to book your Covid vaccination appointment. Please do not call us as we need the spare lines for our Receptionists to call out!! We cannot "bump you up the list" so please don't ask us to. We have to follow the NHS guidelines. Many thanks for your cooperation.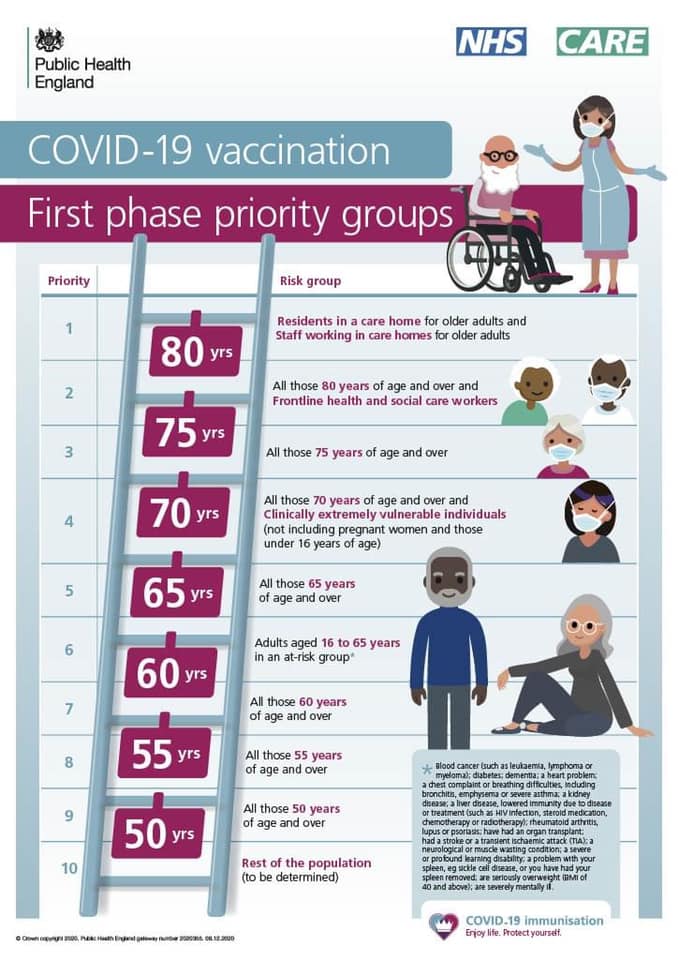 Swindon: it's up to all of us to protect our NHS
13/01/2021

Coronavirus (COVID‑19) is spreading fast in Swindon. The Great Western Hospital (GWH) is today treating more COVID-19 patients than at any point in the pandemic so far.
That's over 120 coronavirus patients including those in intensive care.
The GWH is battling with COVID-19 alongside all the existing 24/7 emergency health needs of our community, including residents suffering heart attacks, in need of cancer treatments or involved in road traffic accidents. For the first time this week, the hospital has had to cancel some non-urgent inpatient appointments.
The new variant of the virus is 50 to 70% more transmissible (spreadable) and we continue to see case numbers in Swindon rise – more than ten times where they were at the peak last August when Swindon was on the Government's watchlist.
Swindon has seen 1,772 new COVID-19 cases in the last seven days, up from 725 new cases last Friday (01 January). Swindon's seven-day rolling average case rate today is 642.2 per 100,000, the national average case rate is 636.6 per 100,000 and 383.4 per 100,000 in the South West.
The national lockdown currently in place follows a real risk that our NHS could be overwhelmed with the demands of treating a rising number of coronavirus patients, alongside all our usual treatment needs this winter.
Now more than ever: to show we value our NHS workers, recognise the tough job they're doing and the life-saving and enhancing services they provide to us, we all need to follow the 'Stay at home' rules.
The single most important action we can all take is to stay at home to protect the NHS and save lives.
Let's do it for our GWH
You have to meet certain eligibility rules to form a support or childcare bubble.
A support bubble is a support network linking two households. You can form a support bubble with another household of any size only if you meet the eligibility rules.
You are permitted to leave your home to visit your support bubble (and to stay overnight with them). However, you should try to form a support bubble with a household who live locally to you.
If you live in a household with anyone aged under 14, you can form a childcare bubble. This allows friends or family from one other household to provide informal childcare.
You must not meet socially with your childcare bubble, and must avoid seeing members of your childcare and support bubbles at the same time.
Children are allowed to move between their parents households if they no longer live together.
Read the guidance for support bubbles and childcare bubbles here.
Coronavirus: Act like you've got it
You should only leave your home for the following reasons:
shopping for basic necessities, for you or a vulnerable person
going to work, or providing voluntary or charitable services, if you cannot reasonably do so from home
exercising with your household (or support bubble) or one other person, this should be limited to once per day, and you should not travel outside your local area
meeting your support bubble or childcare bubble
for a medical reason, including to get a COVID-19 test, for medical appointments and emergencies
seeking medical assistance or to avoid injury, illness or risk of harm (including domestic abuse)
attending education or childcare – for those eligible
New Guidance for People Classed as Extremely Clinically Vulnerable
If you are classed as clinically extremely vulnerable, you should begin to 'shield' again and stay at home as much as possible.
This means you should not leave your home for work, to go shopping or to pick up prescriptions. You are able to leave your home to exercise outdoors and, unlike back in March, the rest of your household do not need to shield. If you haven't already, you should receive a letter from the NHS detailing the advice you should follow to protect yourself.
Sign up to the national database to get priority access to food delivery slots and request support picking up prescriptions.
If you are in urgent need of food or essentials and you do not have the funds to pay or anyone to support you, find out if you're eligible for the emergency assistance fund.
Community pharmacies are offering free deliveries of prescriptions.
If you have no friends or family to stay in touch with, we may be able to link you to one of our volunteer telephone befrienders who can offer a regular check in and chat. The NHS Responders can do this too.
You are also eligible to receive four months of free Vitamin D supplements through the NHS. You'll need to register for this by 11 January.
In the next few days, you'll receive a letter from the Government, we'll also be writing out to those who are new to shielding as well as contacting those who got in touch with us in November.
The NHS is currently offering the COVID-19 vaccine to people most at risk from coronavirus including:
people aged 80 and over, who will already have a hospital appointment in the next few weeks
people who live or work in care homes
health and social care workers at high risk
You will be contacted directly by the NHS when it is your turn to book your coronavirus vaccination. You should not contact your GP or turn up at a vaccination site without an appointment. Find out more about the COVID-19 vaccination
Beware of COVID scams
In recent weeks a number of attempted COVID-19 related scams have emerged across the country, including:
people receiving text messages informing them that they are 'eligible' to apply for a vaccine and then asking them to provide bank details
people receiving text messages that claim to be from the HMRC inviting them to claim for a 'grant'
scammers looking to take advantage of businesses applying for business grants
Never provide your bank details in response to any email, phone call or text from anyone claiming to be part of the NHS vaccine programme. Bank details, passwords and pin numbers will never be requested as the COVID-19 vaccine is free and this should be an automatic red flag.
Home School Resources
Juggling work, childcare and home schooling can seem like a daunting task but there are plenty of resources available to help you support your child with their remote learning.
Many schools already pay for online resources, so it may be worth checking with your child's school which ones you can access from home. There are also plenty of free resources available to you through BBC Bitesize, BBC Teach and Oak Academy.
From Monday (11 January), the BBC will be airing educational programmes for primary school students on CBBC and for secondary school students on BBC Two. You can find out more information here.
Joe Wicks will also be resuming PE with Joe at 9am every Monday, Wednesday and Friday from 11 January.
Recycling Guide
We're offering additional recycling services in January to help you get rid of the extra waste you may have produced over Christmas and New Year.
Our crews will be collecting your real Christmas trees for recycling throughout January. Make sure all lights and decorations are removed and that the tree can be lifted safely by two people. If the tree is very large, cut it down into manageable pieces. To find out when our crews will be collecting in your area, visit our website and check under the heading 'Garden'. You do not need to be a garden waste subscriber to use this service.
We will also be collecting extra recycling between now and the end of January. All you need to do is present it in a sturdy container and leave it next to your recycling boxes by 6.30am on the day of your collection. The containers do not have to be council branded.
Covid-19 FAQs
With England now in national lockdown, it's crucial we all know and understand how to keep ourselves and others safe. Find the answers to frequently asked questions here:
National Lockdown
05/01/2021
Following a rapid rise in infections, hospital admissions and case rates across the country, the Prime Minister announced yesterday (04 Jan) a national lockdown in England with immediate effect and instructed people to stay at home to control the virus, protect the NHS and save lives.
The drastic jump in COVID-19 cases has been attributed to the new variant of COVID-19, which scientists have now confirmed is between 50 and 70 per cent more transmissible.
National lockdown means that you cannot leave your home unless for a small specific list of reasons. From today (05 Jan), all primary schools, secondary schools and colleges will move to remote learning, except for the children of key workers and vulnerable children.
The restrictions have come into effect today, and are expected to last until the middle of February if the situation in hospitals improve. By this point, the NHS hopes to have vaccinated everyone in the top four priority groups identified by the Joint Committee on Vaccination and Immunisation (JCVI) – including older care home residents and staff, everyone over 70, all frontline NHS and care staff and all those who are clinically extremely vulnerable.