We've collected together information that we hope parishioners will find useful. If there's something you would like us to include, please let us know. You may also find the resources and information at chiseldon.info to be helpful. Please note that the Parish Council is not responsible for the content of external sites.
Flu Vaccination Clinic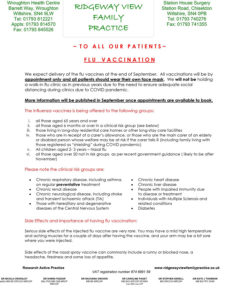 Activities on the Rec. Field During Covid-19
Football Club Training
Outdoor sport is due to return on 29th March which includes grassroots football. As such Chiseldon FC is expecting to resume both training and games soon after this date. The adult Sunday Football League has confirmed its season will resume from 4th April and will be extended into June with the aim of completing all league and cup fixtures. The adult Saturday Football League is engaging with member teams to identify if there is a desire to also continue into June, or to abandon the season. Junior football is yet to confirm its plans for completing the season but the expectation is that games will resume as soon as possible.
Tennis
Following the Prime Minister's announcement, we are pleased to confirm that outdoor tennis courts will be able to open from 29th March. This will mean recreational tennis will be able to resume, including:
Singles and doubles social play including club sessions
organised activity for groups (maximum group size subject to confirmation)
1:1 coaching
Pay and Play will follow soon.
We look forward to welcoming members and new members for the coming year 01/04/21 -31/03/22.
We will also be able to play league tennis and anyone interested in playing for either ladies men's or mixed teams should contact : info@chiseldontennisclub.co.uk
Coaching will be resuming from 29th March. Adult, junior, individual and courses will be available.
For details contact our coach Lauren Prince : Laurenprince92@outlook.com
Mobile: 07931308269
Social distancing (no socialising before or after play) and Covid safety measures will be maintained. We shall advise as soon as we have more information.
Stay well and we look forward to seeing you on court soon!
Day
Activity
Monday
Tuesday

OpFit Session

7-8pm

Wednesday

Adult football training

Evening, whilst possible

Thursday

OpFit Session

7 – 8pm

Possibly Swindon Ladies football training

Softball

Evening, whilst possible

Friday

Keep Fit class

Evening

Saturday

HIIT Session

8:30 – 9:15am

Kids' football team training

8:30 – 11:00am

Adults football matches

Afternoon

Sunday

Kids and adult football matches

Morning
Cemeteries
Maps are available for the Butts Road Cemetery and Sir Henry Calley Memorial Garden. These show names and plot numbers of each grave. We are also in the process of tabulating the information.